Yellowfin 7 pre-release Webinar: An analyst-only briefing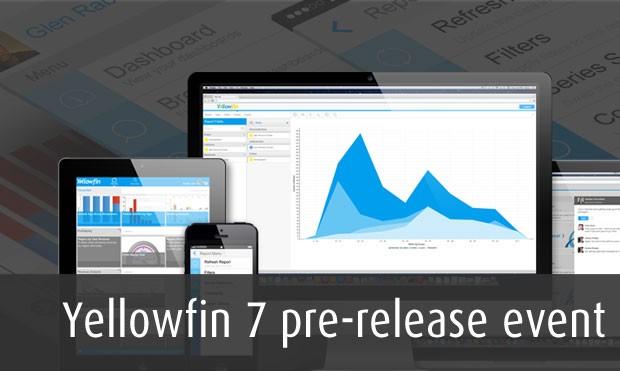 You're invited
Yellowfin is about to launch the latest version of its Business Intelligence (BI) and analytics software – Yellowfin 7.
We're holding an exclusive pre-release analyst-only briefing, which will showcase the new features of Yellowfin 7.
We'd like you to be among the first to see how we're making stunningly simple enterprise-wide data discovery possible.
Register for this exclusive pre-release event to discover how Yellowfin 7 delivers software that is:
Simply beautiful and incredibly easy to use
A fine balance between the needs of self-service users and enterprise IT
A brilliant analytical experience that creates real insight for our users
"Yellowfin 7's amazing new data discovery interface simplifies and enhances the self-service analytics experience, enabling our users to create BI content faster than ever before – on any device."
– Yellowfin CEO, Glen Rabie
When and How?
There are three separate 40-minute Webinars, hosted by Yellowfin CEO Glen Rabie, scheduled throughout Tuesday 19 and Wednesday 20 November for your convenience.
Register for a session now by clicking on a link below:
Webinar 1 (Best time for Americas)
Tues, Nov 19, 2013, 4:00PM – 4:40PM, (USA and Canada) EST
Webinar 2 (Best time for Asia-Pacific)
Wed, Nov 20, 2013, 2:00PM – 2:40PM, Australian EDT
Webinar 3 (Best time for Europe)
Wed, Nov 20, 2013, 10:00AM – 10:40AM, London GMT

Please note: After registering, you will receive a confirmation email containing information about joining your chosen Webinar.
Following the Webinar, attendees will receive a copy of the presentation slides, recording for on-demand viewing, and a copy of the official Yellowfin 7 Release Notes.
What will you discover?
Join us to find out how you can create BI content faster than ever before, in a new strikingly visual user interface, that delivers an amazing analytical experience for everyone.
Beautiful new interface and design
We're making it even easier to build knowledge. Yellowfin 7's new interface for content creation delivers you instant feedback and insight that's not only beautiful, but also highly flexible and intuitive.
Balanced enterprise data discovery
Yellowfin 7 doesn't just provide an immersive user experience with effortless data exploration. Every component is faster and simpler to manage, making company wide data discovery not only possible, but easy.
Brilliant analytical experience
Enjoy a rich and rewarding user experience with Yellowfin 7. A highly visual user interface empowers you to explore your data faster and from multiple angles. Quickly discover deeper insights with ease. More information sharing and user-to-user interaction capabilities add vital context to data. Make collaborative decision-making satisfying, fun and easy.
Our goal
Our goal is to empower anyone to effortlessly interpret and act on business data in a way that actually makes reporting and analytics so natural and easy it's fun.