Webinar: Discover the real-world benefits of Big Data Analytics using Hadoop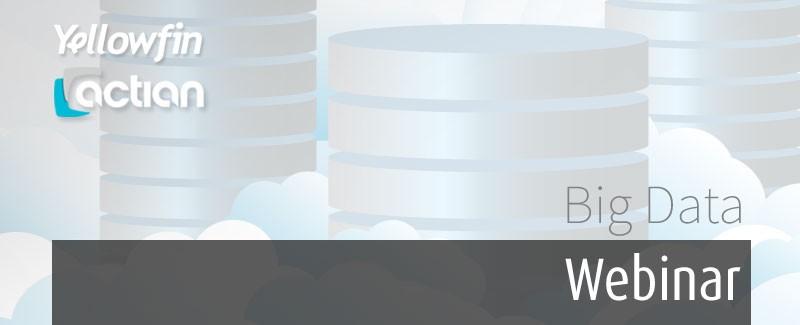 Join Actian and Yellowfin for a live Big Data Analytics demonstration using CDR Telco data
Looking to analyze your Big Data assets to unlock real business benefits today? But, are you sick of all the theories, hype and whoopla?
Join us to discover how we're making Big Data Analytics fast and easy, as we go from data in Hadoop to dashboard in just 40-minutes.
Register for Actian and Yellowfin's Big Data Analytics with Hadoop Webinar to find out how, using a genuine case study example from the telecommunications industry.
When and How
There are three concise 40-minute Webinars scheduled throughout Monday 16 and Tuesday 17 December for your convenience.
But seats are limited, so reserve yours now!
Register for a session now by clicking on a link below:
Webinar 1 (
Best time for Americas
)
Mon, Dec 16, 2013, 4:00PM – 4:40PM, (USA and Canada) EST
Webinar 2 (Best time for Asia-Pacific)
Tues, Dec 17, 2013, 2:00PM – 2:40PM, Australian EDT
Webinar 3 (Best time for Europe)
Tues, Dec 17, 2013, 10:00AM – 10:40AM, London GMT
Please note: After registering, you will receive a confirmation email containing information about joining your chosen Webinar.
Following the Webinar, attendees will receive a copy of the presentation slides and a recording for on-demand viewing.
Why attend?
Attend to discover how to combine Hadoop with the most advanced Big Data technologies and world's easiest BI solution to quickly generate real business value from Big Data Analytics.
Watch as we use live CDR data stored in Hadoop – quickly connecting, preparing, optimizing and analyzing this data in a tangible real-world use case – to easily deliver actionable insights to anyone, anywhere, anytime.
What will you learn?
Discover how Actian's market-leading Big Data Analytics technologies, combined with Yellowfin's consumer-oriented platform for reporting and analytics, makes generating value from Big Data Analytics faster and easier than you thought possible.
Join us as we demonstrate how to:
Connect to Big Data: Connect live to streaming CDR data in Hadoop
Prepare Big Data: Transform CDR logs into a rich structured format
Optimize Big Data: Parallel load at high speeds into Actian's Big Data Analytics platform
Analyze Big Data: Discover new insights with fast queries inside an effortlessly intuitive BI platform
Deliver pervasive Big Data insights: Learn how to empower all your analytics stakeholders to understand, explore, share and act on Big Data Analytics quickly
Communicate insights attained from Big Data: Optimize the value of your Big Data insights by learning how to effectively communicate analytical information to defined user groups and types
This Webinar is ideal if…
You want to act on more data and data types in shorter timeframes
You want to understand the steps involved in achieving Big Data success – both front and back end
You thought that taking action from Big Data was too costly and complex
Looking to analyze and exploit Big Data assets stored in Hadoop? Then this Webinar is a must.
We look forward to seeing you there.
Best regards,
The teams at Yellowfin and Actian