Webinar: Is it time to break-up with your Business Intelligence provider?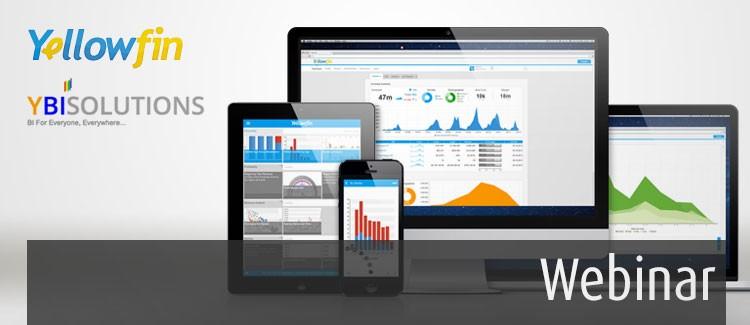 Stuck with a Business Intelligence (BI) tool that no longer meets your modern reporting and analytics needs? Feel like you've been forgotten, neglected and milked for all you're worth?
Well what if there was a better, easier way to drive faster, smarter fact-based decision-making in your organization? Would you want to find out more?
Join YBISolutions to learn how to effortlessly swap your reporting hell for a fresh start. Register for this hassle-free 20-minute Webinar to meet Yellowfin – a BI solution that's incredibly easy to use. Better yet, it's built from the ground up to combat the cost and complexity associated with legacy BI providers.
Discover how Yellowfin's enterprise-ready BI platform delivers the intuitive data analysis and Data Discovery capabilities your users demand. Experience the support, maintenance and licensing transparency you need to make pervasive reporting and analytics easy. Relish a BI relationship that's more than transactional. Enjoy a BI partnership that puts your needs first and makes widespread user adoption possible.
When and How
This crisp 20-minute Webinar is scheduled for Thursday 27th March 2014, 2 – 2:20pm Australian EDT.
But seats are limited, so reserve yours now!
Please note: After registering, you will receive a confirmation email containing information about joining the Webinar.
Following the Webinar, attendees will receive a copy of the presentation slides and a recording for on-demand viewing.
This Webinar is ideal if…
Register for this Webinar if you:
Are struggling with limited functionality and a thankless user experience
Can't justify the cost of complex add-on licenses for additional functionality
Are fed up with exorbitant maintenance pricing and costly development licenses
Are frustrated by slow and careless support
Dream of easily collaborating and sharing your data and analysis
Wish you could enjoy a seamless user experience on any platform and device
Attend this Webinar to discover…
Register for this Webinar to discover a BI solution that:
Boasts intuitive functionality users crave and manageability IT loves
Offers a single all-inclusive subscription license model – software, maintenance, support, upgrades; it's all included (there are no catches)!
Is easy to install, integrate, deploy, maintain and upgrade
Makes migrating from one version to another quick, easy and free
Is constantly innovating to keep you and your BI deployment ahead of your competitors
Has been recognized as the world's No.1 BI solution and is on Gartner's 2014 Magic Quadrant for Business Intelligence and Analytics Platforms
We look forward to seeing you there.
Best regards,
The teams at YBISolutions and Yellowfin