Big Data Analytics with Hadoop: Customer Stories (Webinar recording and slides)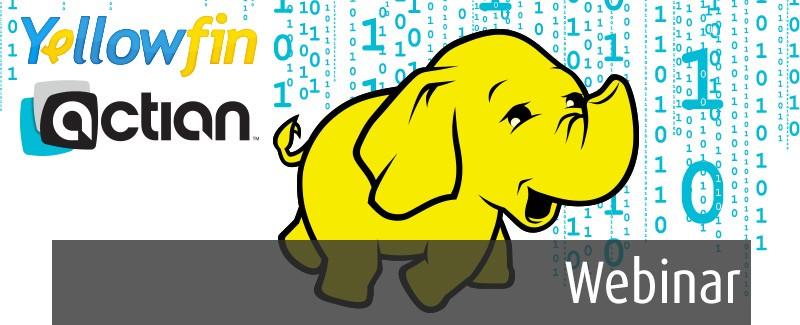 Miss our Big Data Analytics with Hadoop Webinar series?
You're in luck – we thoughtfully recorded the Webinar for your on-demand viewing pleasure.
Big Data Analytics with Hadoop Webinar recording
Big Data Analytics with Hadoop Webinar presentation slides
And, we uploaded the slide deck to Slideshare; allowing you to move through the presentation at your own pace.
Download the presentation slides HERE >
Why do Yellowfin and Actian work so well together?
Well, it's simple really.
Gartner's past four Business Intelligence (BI) and analytics Magic Quadrant surveys have revealed that ease-of-use is considered the most important selection criteria when purchasing a BI platform. And, the past 14 versions of The BI Survey – the largest worldwide study of BI end-users conducted by the Business Application Research Center (BARC) – exposed slow query performance as the number one reason for BI project failure.
Together, Actian and Yellowfin offer the world's fastest and easiest complete Big Data Analytics solution.
Yellowfin is the world's No.1 dashboard vendor according to BARC's The BI Survey 13, lauded for its ease-of-use and Data Discovery capabilities in Nucleus Research's latest Technology Value Matrix for Business Intelligence and Analytics.
Actian's database, Vector (the one used in this demonstration), is the world's fastest analytic database, smashing the Transaction Processing Performance Council's Industry Standard TPC-H 300GB and 1TB benchmarks again, again and again.
Why watch?
Looking to analyze your growing data assets to unlock real business benefits today? But, are you sick of all the Big Data hype and whoopla?
Watch this on-demand Webinar from Actian and Yellowfin – Big Data Analytics with Hadoop – to discover how we're making Big Data Analytics fast and easy. Learn how a telecommunications provider has already transformed its business using Big Data Analytics with Hadoop.
Hold on as we go from data in Hadoop to predictive analytics in just 40-minutes.
Learn how to combine Hadoop with the most advanced Big Data technologies, and world's easiest BI solution, to quickly generate real business value from Big Data Analytics.
What will you learn?
Discover how Actian's market-leading Big Data Analytics technologies, combined with Yellowfin's consumer-oriented platform for reporting and analytics, makes generating value from Big Data Analytics faster and easier than you thought possible.
Join us as we demonstrate how to:
Connect to, prepare and optimize Big Data in Hadoop for reporting and analytics.
Perform predictive analytics on streaming Big Data: Learn how to empower all your analytics stakeholders to move from historical reports to predictive analytics and gain a sustainable competitive advantage.
Communicate insights attained from Big Data: Optimize the value of your Big Data insights by learning how to effectively communicate analytical information to defined user groups and types.
This Webinar is ideal if…
You want to act on more data and data types in shorter timeframes
You want to understand the steps involved in achieving Big Data success – both front and back end
You want to see how market leaders are leveraging Big Data to become data-driven organizations today
Looking to analyze and exploit Big Data assets stored in Hadoop? Then this Webinar is a must.
Like to find out more?
Yellowfin
Please don't hesitate to contact us for additional information. If you haven't yet had a personalized demonstration of Yellowfin 7, simply register your details HERE >
To get started with Yellowfin today, simply visit www.yellowfinbi.com and click "Try It".
Actian
If you'd like to find out more about Actian Corporation, and its record breaking analytical database, Vector, go HERE >
Want to start a conversation? Register your details HERE >
Stay in touch
Stay in touch via the Yellowfin LinkedIn Group and Actian Vector LinkedIn Group, and for regular news and updates, follow Yellowfin (@YellowfinBI) and Actian (@ActianCorp) on Twitter.
We look forward to speaking with you further about making Big Data Analytics fast and easy.
Best regards,
The teams at Yellowfin and Actian