Data visualization predicts Portugal vs Germany at the 2014 World Cup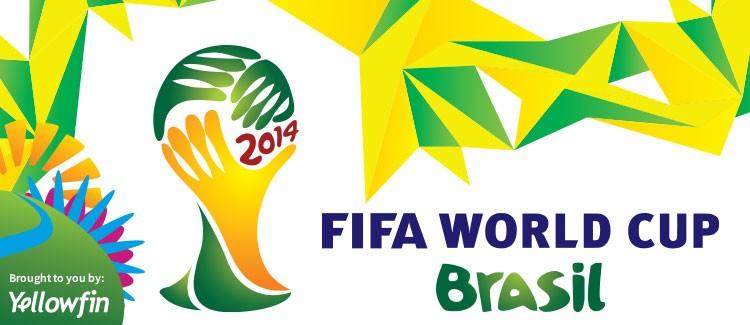 Data Source: Data Visualizations in this post are based on data sourced from www.theguardian.co.uk
Source: Commentary, data analysis as well as Business Intelligence and analytics software brought to you by Yellowfin
The tension is mounting. The heightened sense of anticipation, building. Portugal vs Germany is one of the most eagerly awaited contests of the FIFA 2014 World Cup – well, in the Group stage at least, anyway.
Lets turn to data visualization and Business Intelligence, to assess the tournament credentials of Germany and Portugal, understand why this fixture has football fans around the globe salivating in unison, and predict a victor in this mouth-watering Group G match-up at Salvador's Fonte Nova stadium.
But first, a bit of background…
The path to the 2014 World Cup: Contrasting qualifying campaigns
There's a lot to like about the opening game of Group G. Both Portugal and Germany boast top five FIFA world rankings, fine footballing pedigree, a breadth of world-class talent and are expected to progress deep into the knock-out rounds of the 2014 World Cup – repeating the form that saw both teams reach the semifinals of the 2012 European Championship. However, they experienced contrasting fortunes during their journeys to Brazil.
As has become custom, the German juggernaut breezed through qualifying despite some stern competition. Aside from an exciting 4-all draw with group runners-up Sweden, Germany was otherwise unfazed throughout its qualifying campaign, scoring at least three times in nine out of 10 encounters and finishing with an impressive total goal haul of 36. Not only did the Germans remain undefeated, with nine wins and a draw, they only conceded 10 goals – a miserly defensive effort considering the quality of opposition and the fact that four of those opposition goals came from the same match.
Conversely, Paulo Bento's Portugal stumbled its way through a disappointing qualifying campaign. Whilst they only suffered one loss, Portugal leaked goals like a sieve (to far less credentialed opponents), conceding four to Israel and three to Northern Ireland. Finishing second to Russia in their qualification group, Portugal was forced into a playoff with Sweden.
While two Swedish goals cannoned into the back of the Portuguese net, Portugal's usual savior, Cristiano Ronaldo, took it upon himself to lift his side into World Cup contention. Ronaldo notched all four goals in the eventual 4-2 score line.
Cometh the moment, cometh the man?
If the above paragraph didn't just give it away, Portugal's Cristiano Ronaldo is again the man to watch when his team takes to the field in Brazil. Ronaldo's style of playmaking, and career itself, has been outrageously ostentatious from the outset. Captain of the national team, Ronaldo became the most expensive footballer in history when he transferred from Manchester United to Real Madrid for a simply staggering £80 million. A national icon, with over 100 international caps, Portugal's top goal scorer of all time is regarded by many pundits as the best the world has to offer. He has twice won the FIFA/Ballon d'Or award for the best player in world football (2008 and 2013).
But, his feats of almost magical proportions are far from in the past. Ronaldo had 35 more shots (216) then the next best player in Europe's top five leagues last season. Get the picture?
While many would argue that Germany's talent is more evenly spread amongst its well-credentialed squad, the man to watch is Borussia Dortmund star, Marco Reus. The explosive winger was voted Bundesliga Player of the Year by the fans, having netted 16 goals combined with a league-high 13 assists last season.
The quick punt: An injury cloud descends over proceedings
Despite Ronaldo's almost peerless talent, his home fans will be sweating on a persistent knee injury which has plagued the star since the beginning of June. Ronaldo was restricted to just 65 minutes in Portugal's three pre-tournament friendlies. And, when we wasn't on the filed, Portugal looked a little toothless, grinding out an uninspiring 0-0 draw with Greece, and fortunate 1-0 win against Mexico. Veterans Pepe and Raul Meireles have also missed training sessions due to injury.
However, Portugal is in no position to use injuries as an excuse, with three of Germany's first-choice starters (Marco Reus, Ilkay Gundogan and Holger Badstuber) failing to make the trip to Brazil. There's also fitness concerns within the squad, with persistent niggles hampering the preparations of midfielders Sami Khedira and Bastian Schweinsteiger, as well as starting goalkeeper Manuel Neuer.
But enough of what, or who, we won't see from Portugal and Germany at the 2014 World Cup. So what can we expect?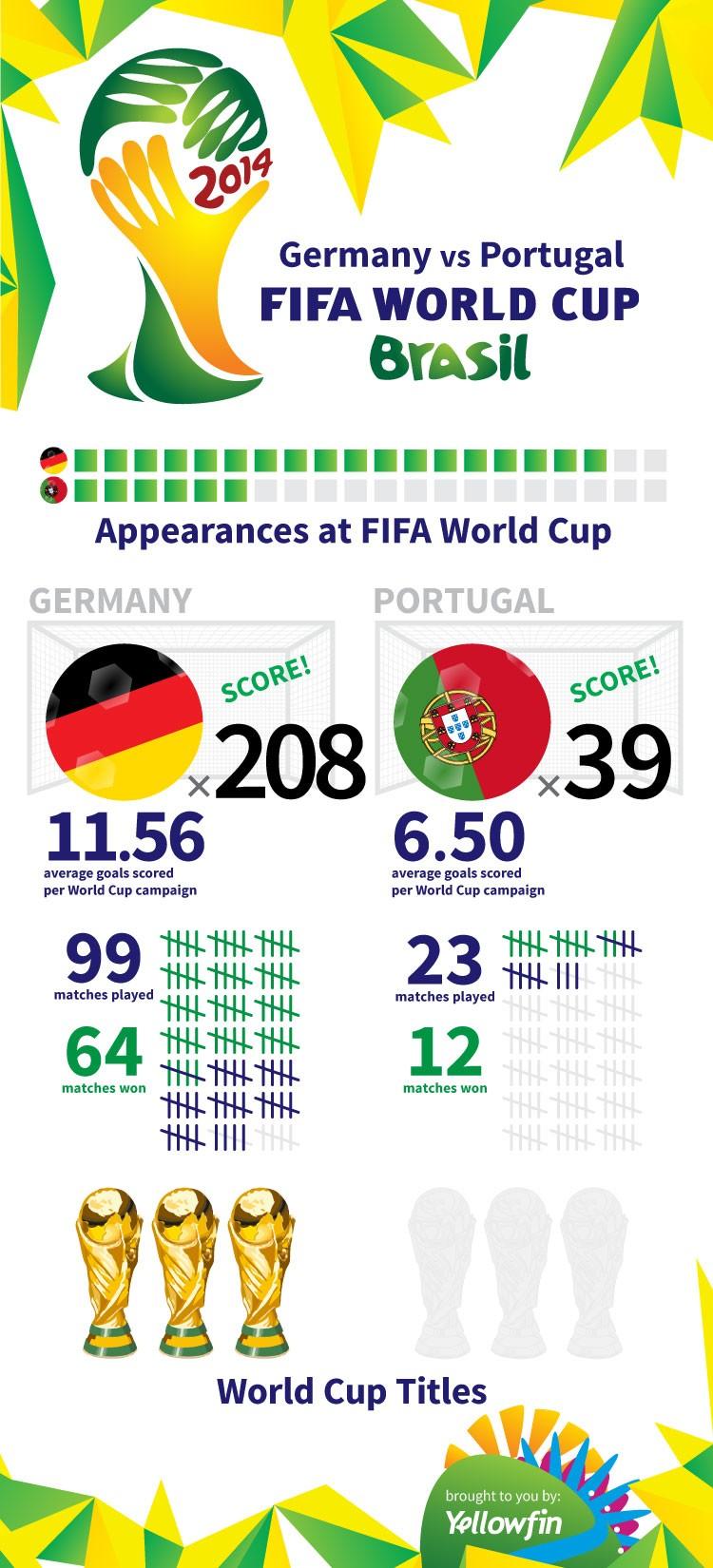 Number of World Cup appearances by country
Many footballing stars – and star-studded teams for the matter – have been undone by nerves on the World Cup stage. If historical context counts for anything, that is unlikely to happen to Germany.

Germany's national soccer team has represented its countrymen at 18 of 20 FIFA World Cups – the second most frequent participant behind 2014 hosts Brazil, who have played in all 20 Football World Cups.
On the other hand, Portugal has only made the World Cup Finals on six occasions. And, as a proud footballing nation, Portugal's team will feel the pressure to perform.
But, does history magnify, or shield you from, national expectations at the World Cup?
Total World Cup matches and total World Cup wins: Germany vs Portugal
Whatever the case, the German faithful know exactly how to handle the build-up to football's ultimate event, having willed their team through 99 appearances, and cheered them to 64 victories (60, not including drawn matches decided by penalty shootouts). And, if you like numeric omens, maybe Germany will lift that extra gear for its 100th World Cup encounter.

The people of Portugal have had to practice patience, barracking their footballing representatives through a comparatively modest 23 games and 12 wins.
Assessing success at the World Cup: Germany vs Portugal
Both teams have enviable World Cup win rates – Germany has humbled its opponent in 61% of its matches, while Portugal has emerged triumphant in 52% of their FIFA Finals bouts.
Although, what's perhaps most notable, is that Germany has only had its colors lowered during 20% of its outings on the world stage (20 games), whereas Portugal has succumbed to defeat in 35% of its matches (8 games).
Aside from indicating a continuing national emphasis on the round ball game, much of this is likely to remain fairly irrelevant when the two teams meet in a few hours time.

What is likely to make Portugal feel the pinch, however, is the fact that their first appearance – a third place finish in 1966 – remains their most successful World Cup tournament to date. Not only have they never claimed a World Cup title, they have never given themselves a shot at glory (by making The Final) either.
Germany, by comparison, has no such demons to address, having won the FIFA World Cup three times (Switzerland 1954, West Germany 1974, Italy 1990), and been runners-up on four occasions (England 1966, Spain 1982, Mexico 1986, Japan / South Korea 2002), for a total of seven appearances in The Final.
Total and average number of goals scored at the World Cup: Germany vs Portugal
Teams serious about progressing to the 2014 World Cup Final must contain a variable arsenal of firepower – able to pepper the opposition goal and force world-class defenders into a fluster.

Again, due to its longevity at the World Cup, Germany has scored a vastly superior number of World Cup goals compared to Portugal (208 to 39) – second only to Brazil (210 prior to its opening 2014 win against Croatia).
Although even when considering the average number of goals scored per tournament – in order to dampen the impact of Germany's 12 extra World Cup campaigns – Germany still comes out on top. And this time, it's the very top.

Whilst Portugal has managed a respectable 6.5 goals per World Cup campaign, the German powerhouse has the highest average (11.56) of any country.
But, we're still living in the past, which is not a fair indicator of the skillsets of the current German or Portuguese teams.
So, lets assess the number of international goals scored by players in the current German and Portuguese squads.
Total international goals scored by members of 2014 World Cup squads: Germany vs Portugal
Unfortunately for Portugal, the argument for a Ronaldo inspired victory doesn't become much stronger.

In fact, Germany's 2014 World Cup squad has kicked the most goals whilst on national duty (219) of any other team at this year's competition. While Portugal's players have booted the sixth highest combined total of international goals (141), it might not be enough to overcome an imposing German outfit.
And, if a potentially frail Ronaldo fails to fire, Portugal could be in real trouble. As one commentator put it: "The lack of a striker has been an issue for years, and Nani's poor form with Manchester United is well-documented".
On the other hand, Germany has no such concerns, brandishing a plethora of attacking options, with veterans Mesut Ozil, Thomas Muller, Lukas Podolski and Miroslav Klose, as well as young guns Mario Gotze, Andre Schurrle and Julian Draxler.
Alright; so this line of argument isn't working well for Portugal. But, surely then, if Germany's current World Cup team has kicked 78 more international goals between them than Portugal's has, surely Germany has a squad of slowly aging stars to carefully manage?
Average age per team at the 2014 Word Cup: Germany vs Portugal
Well, German striker Miroslav Klose certainly is getting-on in soccer years. However, the 36-year-old has taken over as Germany's all-time leading goal scorer (as of June 6), and is only two goals away from breaking the World Cup record. So if you're going to have a guy in your team with a few greys, he's not a bad sort…

And, in terms of average age, it's actually Portugal's outfit that's getting a little long in the tooth, with an average squad age of 28 compared to Germany's 26.
If truth be known, numerous commentators were already highlighting Portugal's aging squad pre-championship, with all 11 of the qualifying starters at least 26 years of age, five of whom are 30-plus.
Well, at least Portugal have experience on their side; right?
Total number of international matches (caps) per team at the 2014 World Cup: Germany vs Portugal
Apparently they don't have that, either.

When assessing the total number of international caps per team at the 2014 World Cup, Germany outperforms Portugal – again. The German team has a total of 974 matches worth of international experience (average of 42), whereas Portugal have 845 international games of joint experience, at an average of 37 per player.
Percentage of players per 2014 World Cup squad who play club football within their home country: Germany vs Portugal
Ok. Chin-up all you Portugal supporters, or Ronaldo fan girls and fan boys. We've got one more test.
Some would argue that ethnic-based appraisal is flimsy at best, while others place enormous emphasis on national pride and family origin.
So, if playing club football within a national, as opposed to overseas, league has any impact on ones' willingness to 'bleed' for their country, is it Portugal's or Germany's players who will be most likely to go that extra mile on game day?

And, once again, Germany has it.
A notably high 73.91% of Germany's 2014 World Cup squad play club football at home, while just 34.78% of Portugal's team ply their craft within their own country.
The prediction
It seems as though Germany are destined to cement their place as one of the hot favorites to take out the 2014 championship. And who are we to disagree?
Our prediction: Germany 3-1 Portugal
Where to next?
In case you missed it, check out our opening data blog of the 2014 World Cup here – An introduction to the 2014 FIFA World Cup using Data Visualization
Keep an eye out for our continuing series of data blogs, appearing throughout the 2014 World Cup.