Growing customer base through partners
This month we would like to highlight our new Mexican partners, Group de Outsourcing Technologic (GOTSA), who have had exciting success in the early stages of partnering with Yellowfin with three new customer deals in their first month.
GOTSA
is a BI consultancy company with more than 10 years experience with a presence in Mexico and Colombia.
"We decided to partner with Yellowfin as a result of customers wanting a more interactive and engaging experience with their data," explained Alejandro Mendoza, CEO of GOTSA. "Yellowfin is highly innovative, with 10 years in the market and came with great reviews from leading BI analysts such as
Gartner
,
BARC
and
Dresner
. Yellowfin also allows the non-technological users to easily interact, analyze, collaborate and share ideas between different users."
To kick off the new partnership with Yellowfin, GOTSA hosted an event to discuss Business Intelligence technologies, market trends and demonstrate their new offering – Yellowfin Business Intelligence.
"Yellowfin's
collaboration
features are highly innovative," said Mendoza. "Users love how Yellowfin Timeline gives them the ability to share knowledge is a social platform environment."
Mendoza also discussed the importance of Mobile BI during the conference.
"Most companies thought that a mobile application was for the management team, however the biggest impact of Mobile BI is at the operational level," explained Mendoza. "Productivity increases when you provider workers the ability to access the latest information off-site.
Mobile BI
is something Yellowfin has done very well."
Location Intelligence
was another hot theme as Mendoza explained. "With Yellowfin's Location Intelligence, we were able to show simple indicators such as sales levels or number of clients by regions, and demonstrate the value to our attendees and how they can use this valuable information to help generate an expansion strategy. Even external databases can be crossed with internal ones formeasuring market share with certain products or demographic analyses to identify target markets to increase the rate of success on this process."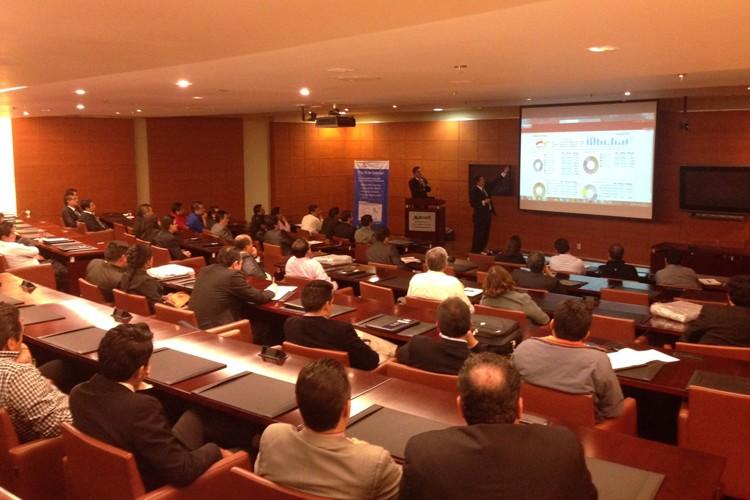 Over 100 people attended the event held at the Marriott in Mexico City, which included representatives from telecommunications, finance and insurance, transportation, healthcare, education and oil industries.
"The general consensus was that everyone seeing Yellowfin for the first time was very impressed," said Mendoza. "We expect Yellowfin to make a big impact in the Mexican market."
Yellowfin is a partner-centric organization and love supporting partners to grow their business.
"GOTSA have certainly hit the ground running with this event and have had great results in the first month of our partnership," said Simone Clancy, Yellowfin General Manager of Asia and Latin America. "We are looking forward to their continued success and supporting the growth of their BI business in Mexico."