Can de Villiers beat Proteas' Cricket World Cup choking tag?
By Eshan Wickrema and Lachlan James
Will Proteas' skipper, Abraham Benjamin "AB" de Villiers, be able to sustain his near-peerless performances at the 2015 International Cricket Council (ICC) Cricket World Cup to overcome South Africa's tag as tournament chokers?
AB de Villiers ODI milestones
New to the concept of World Cup Cricket?
Check out our inaugural data blog for the 2015 Cricket World Cup
HERE >
South African cricket prodigy and current captain, AB de Villiers, has produced some of the most explosive batting performances seen in One Day International (ODI) history, let alone the Cricket World Cup.
Using Business Intelligence and data visualization, we can see that de Villiers has recently set new records for the fastest ODI:
Fifty (16 balls vs West Indies at Wanderers Stadium, Johannesburg on 18 January 2015)
Hundred (31 balls vs West Indies at Wanderers Stadium, Johannesburg on 18 January 2015)
Hundred and fifty (66 balls vs West Indies at Sydney Cricket Ground, Australia on 27 February 2015)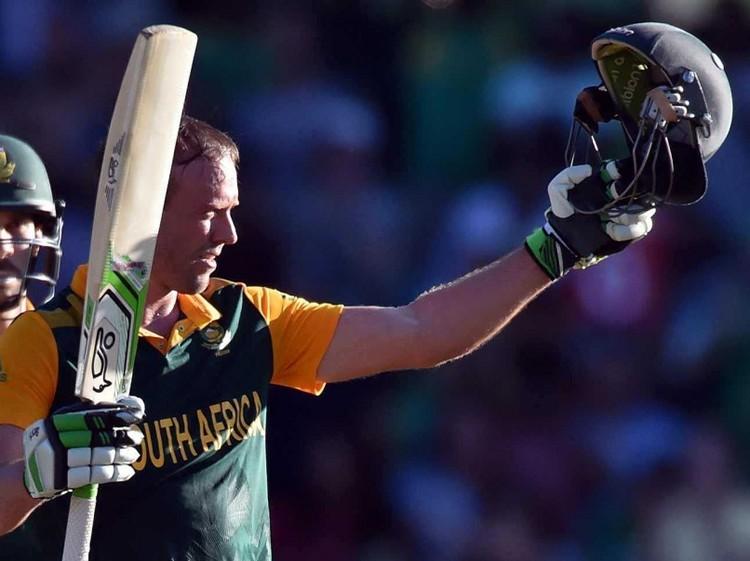 The last, and arguably most impressive, of these recent record-breaking knocks came during the 2015 World Cup itself against the West Indies – a proud and successful cricketing nation. But that swashbuckling innings of 162 (not out) wasn't de Villiers' only contribution to the World Cup group stage. AB also blasted a rapid-fire 77 against Pakistan and quick-time 99 against associate cricketing nation, the United Arab Emirates (UAE). De Villiers' consistency saw him emerge from the group stage of the 2015 Cricket World Cup as the third highest run scorer, with 417 runs. His ability to combine consistency with scoring rate has contributed to South Africa's success so far at this World Cup, and seen him win a few high-profile fans along the way: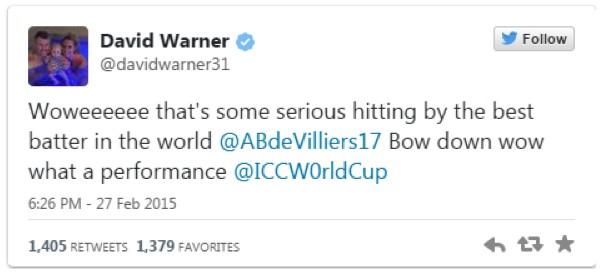 But it's AB's history of sustained success and aggression at the crease that gives him the greatest chance of overcoming the Proteas' World Cup hoodoo. To demonstrate the point, de Villiers is the fastest player to reach 7000 ODI runs. He also holds the record for the equal most sixes (16) scored in an ODI innings with India's Rohit Sharma and the West Indies' Chris Gayle.
AB de Villiers' ICC ODI batting ranking (2010 – 2015)
In fact, de Villiers has consistently accrued enough ICC rankings points to be positioned amongst the world's top five ODI batters over the last five years.

AB reached the number one ODI ranking on 30th May 2010 and hasn't dropped from the top five since, entering the 2015 Cricket World Cup as the top ranked ODI batsman ahead of Sri Lanka's Kumar Sangakkara.
That's stumps
Despite holding the best ODI winning percentage (61.61%) of any team since their reintroduction to international cricket post apartheid in 1991 – thanks to a swathe of once-in-a-generation players – South Africa have never claimed the ICC Cricket World Cup crown.
But, with the Proteas' inspired and consistent captain AB de Villiers at the helm, South Africa might just loosen the noose in 2015.
Recommended
Data visualization sets the scene for 2015 Cricket World Cup >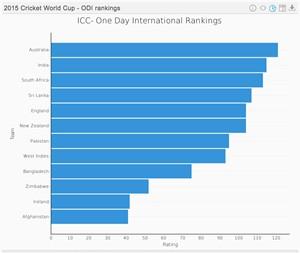 Data viz predicts 2015 Cricket World Cup high scoring games >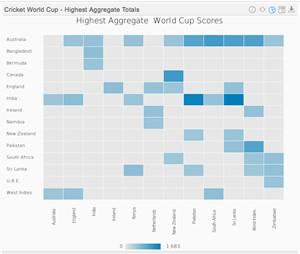 Cricket World Cup: Data Viz shows Windies reliance on Gayle >