It's what's up top that counts.
Yellowfin Placed Top in Nucleus Research Analytics Value Matrix 2018
Independent analysts of Nucleus Research ranked 21 business intelligence and analytics products for functionality and usability on their Value Matrix to determine the platform that delivers best value.
Read why Yellowfin placed top in comparison to vendors like Tableau, Microsoft, Sisense, and Qlik.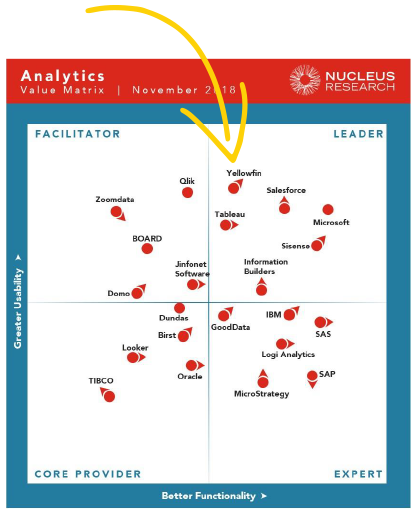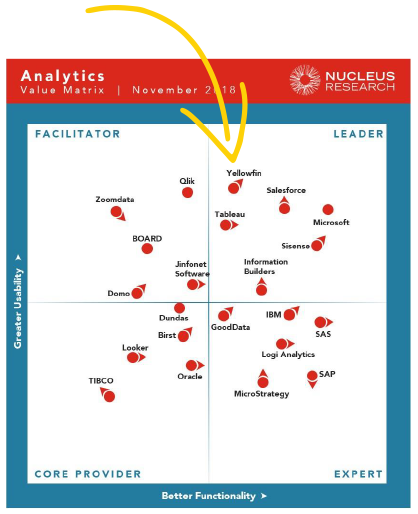 Download the Analytics Technology Value Matrix 2018 by Nucleus Research.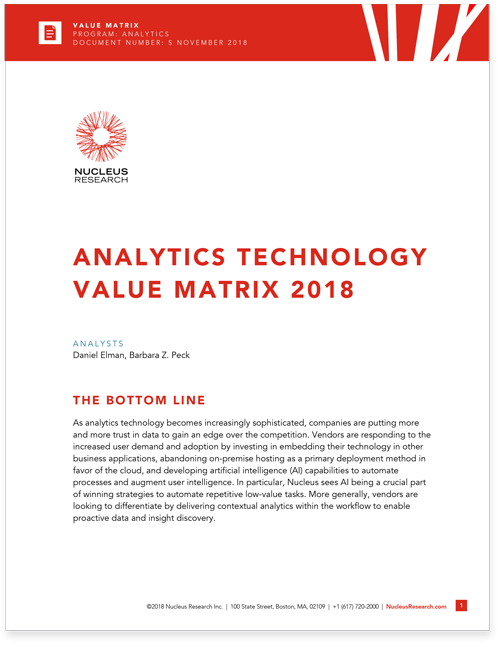 As ranked by independent analysts, proving their place as a leading business intelligence solution that delivers excellent value for businesses.
Yellowfin placed top in Leader quadrant
Yellowfin ranked first for usability

The Analytics Technology Value Matrix 2018 by Nucleus Research ranked Yellowfin highest for usability across all vendors and positioned them in the top-right Leader quadrant for overall value. The matrix compares BI and analytics products according to their functionality and usability against competitors and the overall market to decide the best value data analytics products. Yellowfin's position in the Value Matrix is further backed by BARC naming Yellowfin a leader in their peer group for the price-to-value category in The BI Survey 18.
Artificial intelligence was identified by Nucleus Research as one of the trends driving investment in analytics this year - and this capability is seen in both Yellowfin's Assisted Insights and in the innovative Yellowfin Signals which automates data discovery.
Download the Analytics Technology Value Matrix 2018 by Nucleus Research paper.
Note:
By registering, you confirm that you agree to the processing of your personal data by Yellowfin as described in the
Privacy Statement
. Yellowfin is part of the Idera group and may share your information with its parent company Idera, Inc., and its affiliates. For further details on how your data is used, stored, and shared, please review our
Privacy Statement
.