What's Cool in Yellowfin 6.2? SSRS Reports!
It's that time of year again.
Time to take some well-earned holidays, catch up with the family and embrace the joys of giving.
Here at Yellowfin we also enjoy all of the above. So, in amongst the usual tokens of holiday cheer – more socks and underwear, the usual array of gift cards, and a slightly questionable item from that weird uncle you hardly see – you might find a shiny new toy from your favourite vendors of Business Intelligence software.
Inside a carefully wrapped box, you find the new SSRS (Microsoft SQL Server Reporting Services) functionality from Yellowfin 6.2. Now all those SSRS reports you have had lying around the office can quickly and easily be integrated into Yellowfin.
It only takes a few moments to create a new connection to your SSRS reporting server using our new Reporting Services connector (shown below); then you're ready to go.

Once your connection is set up, all you need to do is create a new report using the Reporting Services method, select your source reporting server and target report, and then Yellowfin will do the rest. You will now be able to access and interact with the data, charts and graphics of your favourite SSRS reports, all within the cosy confines of the Yellowfin application.
But wait, you say, I don't want to spend all my holiday time having to re-create the filter sets from my SSRS report in Yellowfin! I'd rather be on the beach armed with one of those funny cocktails with an umbrella (For those in the northern hemisphere, please substitute beach with an applicable winter pass-time).
Well, never fear! Yellowfin also allows you to bring through the filters you already created in SSRS and apply them to your report (see below).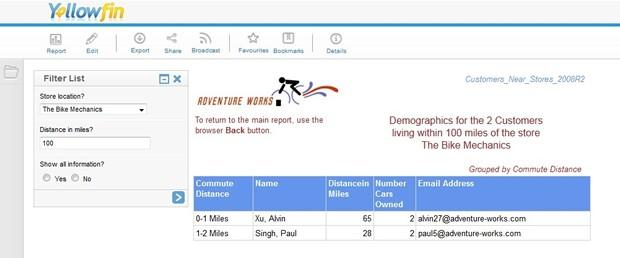 Yellowfin: Bringing you holiday cheer and SSRS integration!