Not All Natural Language Query (NLQ) Models Are Created Equal: Part 3 - Power BI Q&A
In part one of this series, we discussed the evolution of Yellowfin's Guided NLQ solution and focused on aspects of Guided NLQ that stand apart from the competition. In part two, we then compared Guided NLQ to Sisense's equivalent NLQ solution, Sisense Simply Ask.
In part three, we will look deeper at another competitor's NLQ offering, Microsoft Power BI and its Q&A feature.
A summary comparison of Yellowfin vs Power BI - click to learn more.
Power BI has come to dominate the BI landscape due to bundling strategies and attractive entry level pricing. It has a close affinity to the rest of the Microsoft stack, and is optimized to work on Microsoft Platforms and Databases, although other platforms are supported but often with limitations. Like many Microsoft products, Power BI suffers from usability challenges and despite being produced by one of the largest software vendors, its features often lack innovation. The Q&A feature, which was first released nearly 10 years ago, is no exception. We take a look at a number of limitations below.
Linked to a Report or Dashboard
Similar to Sisense Simply Ask, Power BI Q&A is limited to being used within a Dashboard or an individual report. Q&A is enabled by default on a Dashboard, and a user can ask questions about any of the data sets linked to that Dashboard. Alternatively, a Q&A widget or button can be added to a Power BI report, but the user is restricted to asking questions only about the data set for that report.
As we discussed previously, Yellowfin Guided NLQ can answer questions about any data source that is modeled in Yellowfin, and further, can be launched from anywhere in the Yellowfin UI or any application Yellowfin is embedded into.
This gives users the freedom and flexibility to ask a question about any data, from wherever they happen to be in the application.
Learn More: An introduction to Yellowfin Guided NLQ: What is it?
Complex to Use
Unlike Yellowfin's Guided approach, where user inputs are limited to certain valid choices, Q&A users are free to type whatever they want into the search bar.
Q&A provides suggestions along the way, but ultimately the system will try and interpret whatever the user types. Whilst this seemingly provides ultimate flexibility, user feedback shows that this can be hit and miss. Q&A will attempt to interpret what is typed in, and will highlight terms that it recognizes, ambiguous terms that require the user to resolve and non-recognized terms that the user needs to change.
Administrators have some options to customize Q&A so that it recognizes a broader set of terms. Some of these options, such as Teach Q&A are only available in Power BI Desktop, and only work against imported data (not on live data sets). Further customization is available by creating and editing a Q&A Linguistic Schema, this requires the administrator to edit .yaml files through developer tools like Visual Studio.
As Yellowfin only allows users to select from valid, known choices, there is no interpretation of the question done and no chance of the user asking an invalid question. Whilst this limits somewhat what a user can type, it increases the speed to answer as the user is guided down a defined set of valid choices. Furthermore, customization of the Yellowfin metadata model is driven by simple UI-driven configuration options.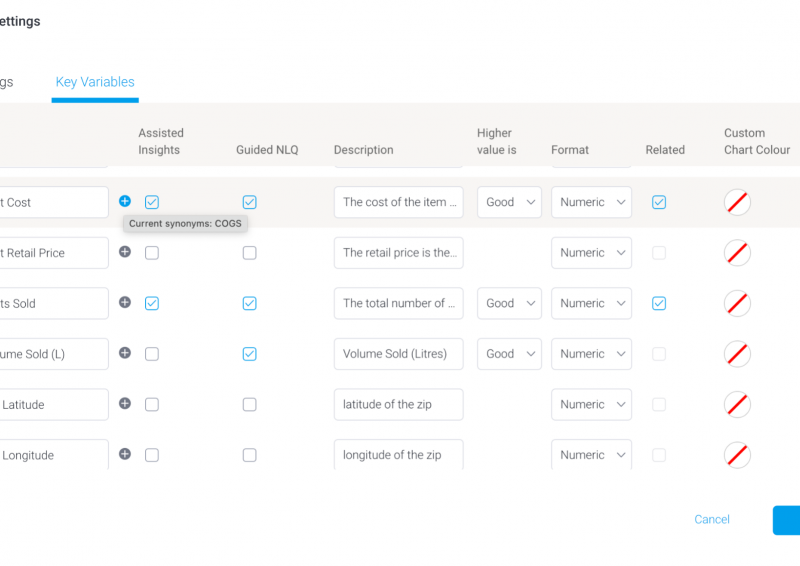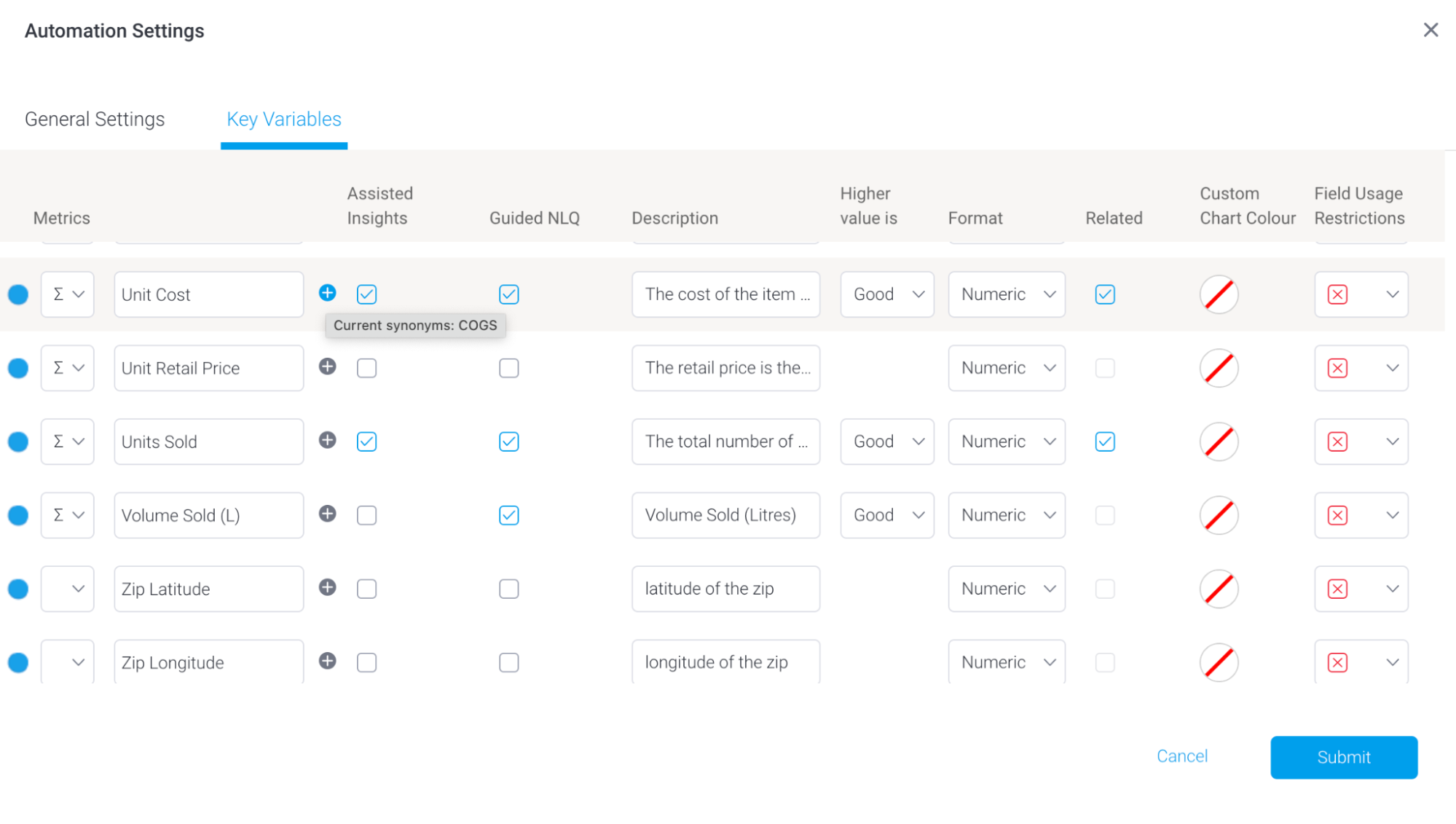 Support for Complex Queries
Whilst Q&A has an extensive dictionary of terms, it does lack support for certain common questions that users might ask. Whilst these questions are easy to ask, the queries generated are complex which is why most BI vendors do not offer this support. Here are some examples from Guided NLQ that are not supported in Q&A.
Growth/Decline: A common business question might be to ask which Brands are selling more this year than last year. Constructing a query like this in SQL requires the use of advanced SQL techniques such as UNION, MINUS, INTERSECT or even sub-queries. In Yellowfin, these questions can be easily asked with the WITH construct (with more, with less, with growth etc).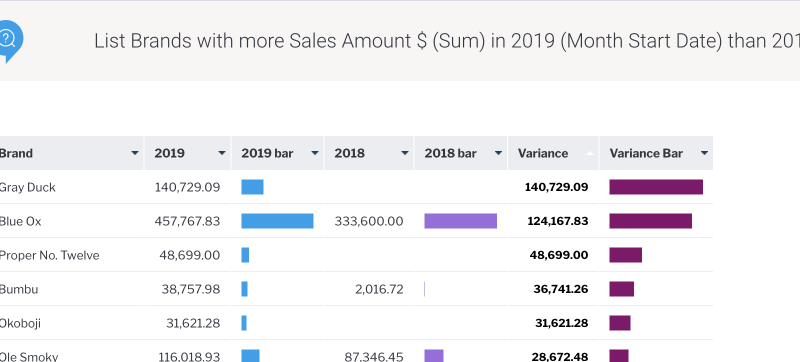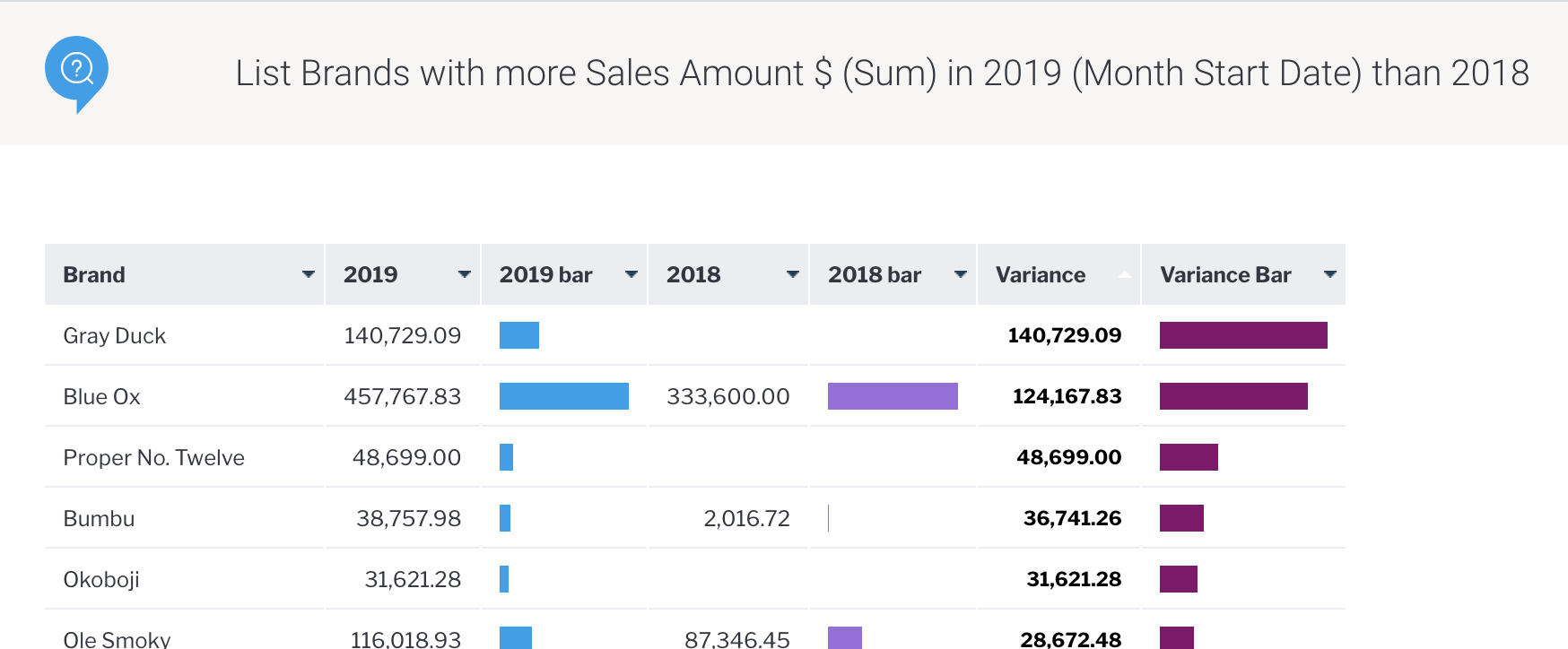 Highlights: Users often want to highlight certain items on the report, such as adding a trend line. In Guided NQL these can be added using the Highlight keyword. Highlights include trends (linear regression, polynomial, moving average over n periods); averages, target lines and more.
Crosstabs: Crosstab reports are one of the most popular report types that business users request, as they provide a very simple mechanism to review a metric across two or more dimensions - yet most NLQ tools are unable to produce them. In Guided NLQ, users can specifically request a crosstab report by using the Crosstab keyword.
Other Limitations
Embedding: Q&A can be embedded into a web page or application - however questions can only be asked about a single data set. With Yellowfin, questions can be asked on any data set with the user able to choose dynamically what data they want to ask questions about.
Databases supported: Q&A is restricted to data imported into Power BI Datasets for SQLServer or Azure Analysis Services. Direct Query mode is currently in "Preview" and is limited to SQLServer 2019 and Azure SQL and Synapse. Guided NLQ can be enabled against any of the extensive database types supported by Yellowfin.
Conclusion: Yellowfin Guided NLQ vs Power BI Q&A
NLQ can be a powerful addition to your Corporate BI platform or embedded into your application. It can enable true self-service for your business users and assist in driving a data driven culture in your organization. Most if not all BI vendors offer some kind of NLQ solution but as we have seen, not all are created equal. You may need to dig below the surface to find the differences and those differences can have a profound impact on usability and user uptake.
Try Yellowfin Guided NLQ Today

Discover the business benefits of Guided NLQ and exactly how it opens up true self-service BI for everyone - not just analysts. Try our demo today.