Our Journey to Becoming a Visionary in the Gartner Magic Quadrant
It is that time of year again.
The much anticipated 2020 Gartner Magic Quadrant for Analytics and Business Intelligence Platforms has been published, and we are elated and humbled to announce that Yellowfin has been recognized as a "Visionary" in this year's report. It's our seventh consecutive year in the quadrant and just like last year, we believe we have made the most significant leap of any vendor in it.
What does it mean to be "Visionary"? By definition, "Visionaries have a strong and unique vision for delivering a modern A&BI (Analytics and Business Intelligence) platform". For Completeness of Vision, Gartner assesses "a vendor's understanding of how market forces can be exploited to create value for customers and opportunity for themselves" and for Ability to Execute, "a vendor's ability to make its vision a market reality that customers will regard as differentiated and that they will be prepared buy into"
We believe that our ability to deliver on both fronts have resulted in this year's placement.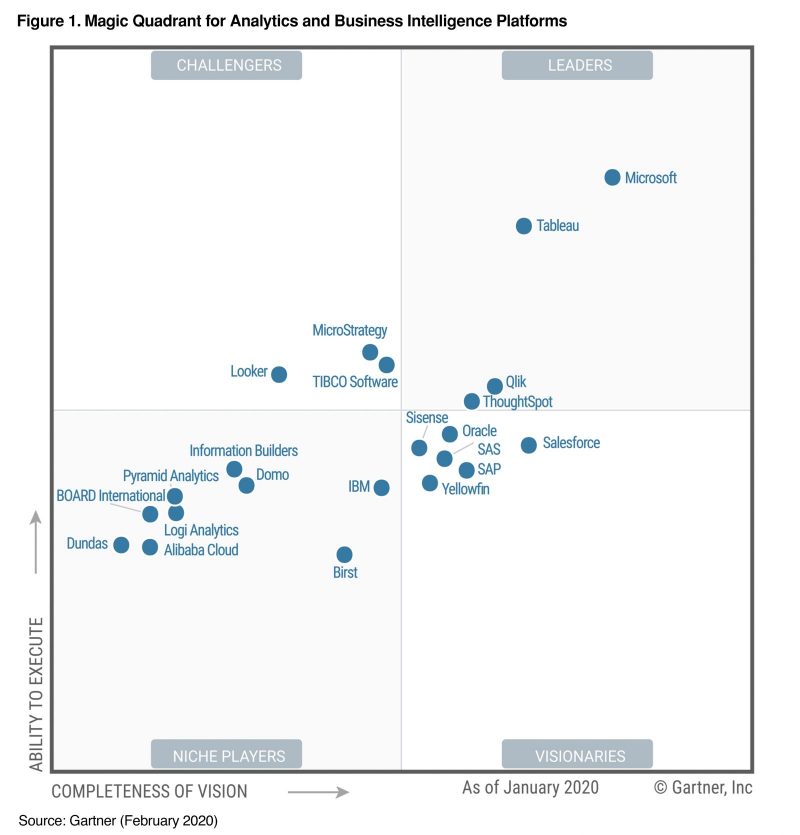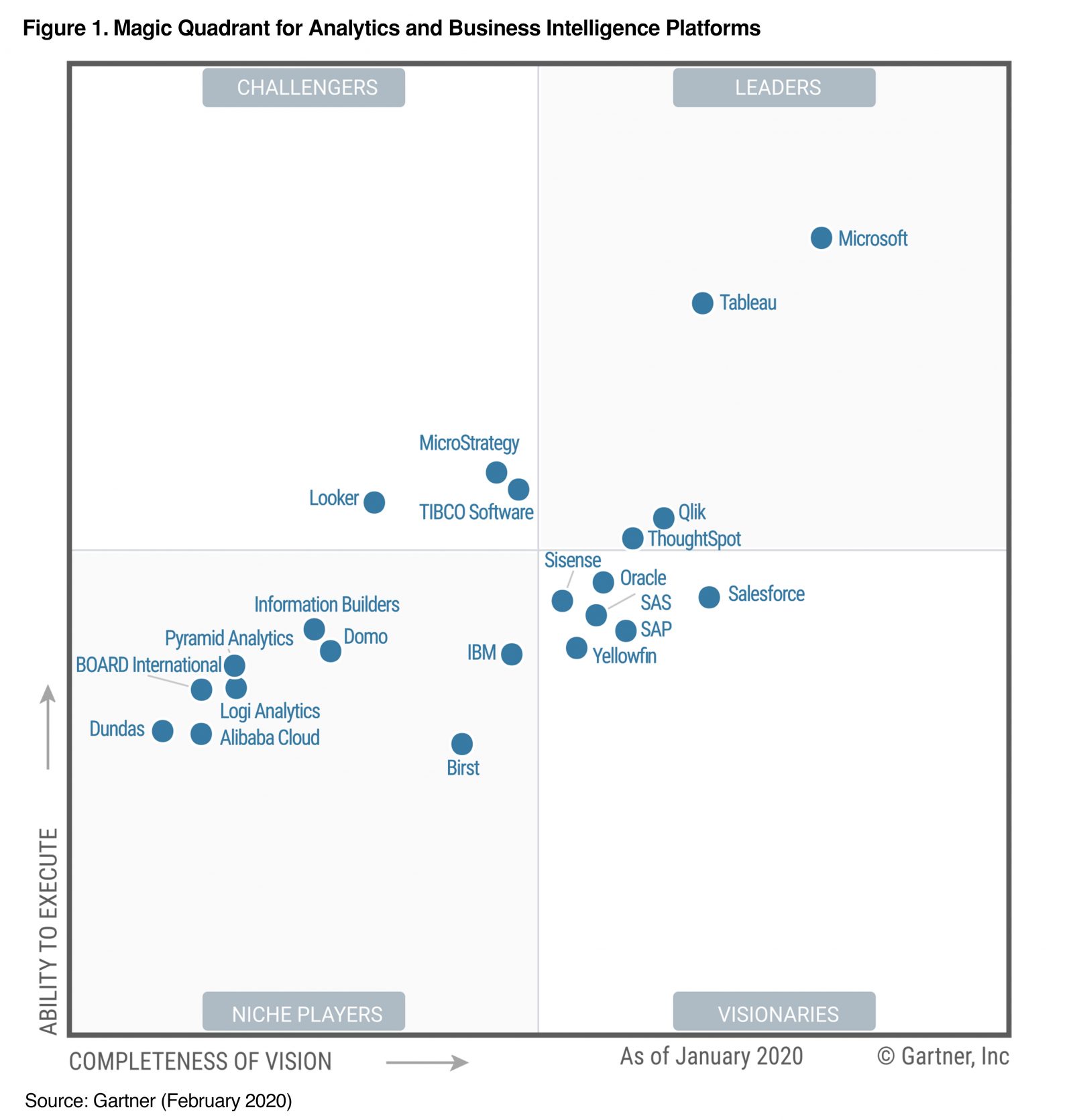 Behind our placement
There are many strategic factors involved when it comes to placements like these but we believe it comes down to three things: an innovative product vision, building an analytics suite powered by automation, and providing the best customer experience.
We have the broadest platform capabilities in the market for both Mode 1 reporting and Mode 2 visual exploration including augmented analytics. Our approach to solving real data challenges our customers have is unique. Ultimately, the question that the team at Yellowfin obsess over is "How do we help our customers be successful?" It's this single thought that continuously drives what we do.
It was clear right from the outset that augmented analytics will transform the way users create, consume, and share insights. In the beginning of our foray into augmented analytics we unveiled Assisted Insights; helping business users and data analysts uncover hidden insights simply by asking a question on any data set through the dashboard or self-service analysis respectively. The automation of these insights requires capabilities to assist users in understanding what they are seeing so we created our own natural language generation engine - producing written interpretations to aid users in understanding what the algorithms are telling us.
We pushed even further into automation with Signals and Stories. Signals automatically discover and surface the most important changes in data as it happens, using AI-powered pattern detection and relevance scoring. This ensures we cut through the 'noise' and deliver alerts that are relevant, personalized, and correlated. By immediately knowing what happened and why, users can augment these insights by providing context and their narrative through Stories. True data storytelling provides common and consistent understanding 'behind the numbers' and ultimately moves organizations to make the right decisions and act quickly.
And with our new mobile app, we deliver all of this into your hands through a simple timeline interface curated for a mobile-specific experience, enabling you to see a change, understand why it happened and then do something about it wherever you are.
All of this only works with the right architecture, metadata layer, and collaboration.
In today's market, it is the critical combination of these capabilities into a unique analytical experience that enables users to be successful in their organizations.
Our customers have spoken
Everyone loves to talk about customer success but unlike other buzzwords which fade away, it is one of the most important factors in our organization, if not the most important factor, especially in a crowded market. To serve a global customer base and have a laser-like focus on their success is an ongoing commitment that never ends.
This is reflected in the report and we believe that our trajectory into the Visionary quadrant was guided by feedback around high customer experience, product satisfaction and support quality provided by the team at Yellowfin. This is a testament to our commitment to our customers and help them generate transformational value from their data.
We thank our customers and partners around the world for coming along on this journey with us to a new future of analytics and we hope to collaborate together for many more years to come.
2020 and beyond
It's a huge accomplishment to be named a Visionary in the Magic Quadrant and this wouldn't be possible without the dedication, selfless hard work and collaboration from our world class team of Yellowfinians, customers and partners.
While we're excited to receive this recognition, we are even more so in continuing to deliver an analytics suite that provides industry-leading flexibility, functionality, and governance to our users and enable them to create outstanding data-driven customer experiences.
As they all say, this is just the beginning.
If you haven't seen the MQ report yet, you can download a complimentary copy here.