Yellowfin delivers the analytics platform
for modern data teams
Not many tools – one tool. Yellowfin is built for every member of your data team so you get from raw data to deployed dashboards to actionable business insight quickly.
Prepare raw data for analytics
Create repeatable workflows for data preparation
that gets your data ready for analysis
Connect to all your data
Easily connect to files, relational databases, cubes, Hadoop, NoSQL, and API data sources, whether they're on-premises or in the cloud. Are yours on the list? Use one of our many partners, or write your own if you are so inclined.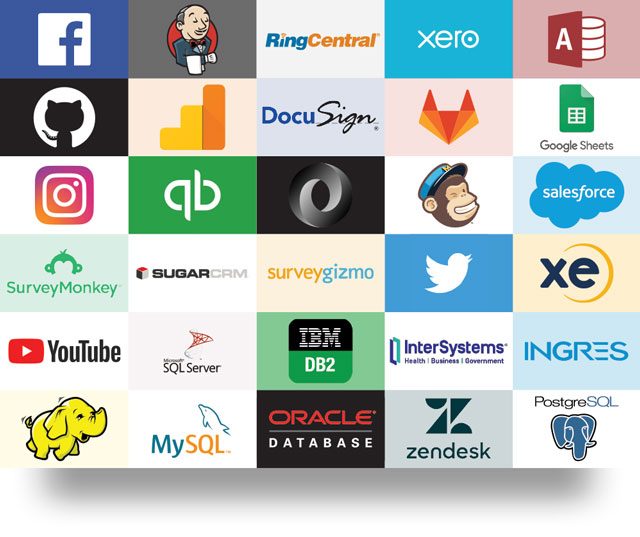 Quickly transform, blend, and enrich
Transform data with clicks not hand coding. You can easily blend data from multiple data sources, transform it with pre-built or custom transformations, and enrich it for deeper insights using third-party data providers.
Prepare, profile, and model
Define metrics once. Our centralized metadata repository helps you to rapidly model, prepare, and reuse data for analysis. Provide governed and secure data for analysis that the whole organization trusts.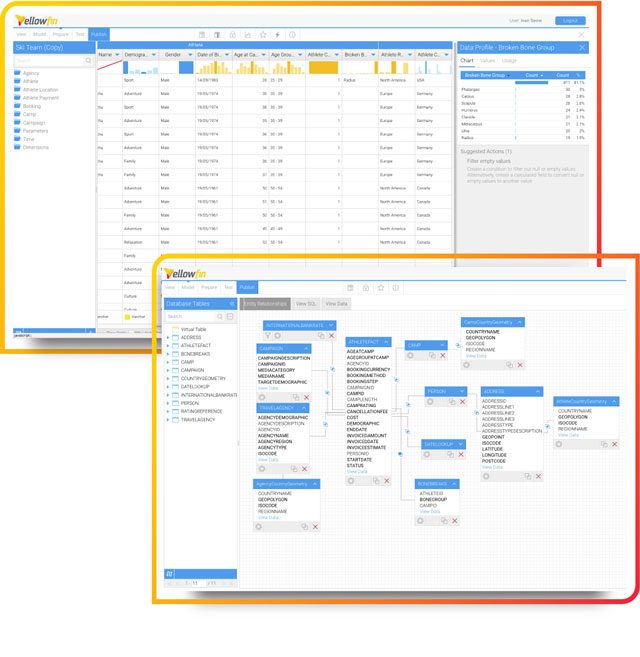 Integrate data-science models into the BI workflow
Operationalize your machine learning and deliver those insights to business users.
Your data boffins have built some valuable models, but they are locked away in their data-science tools. Integrate them into a data-transformation flow or live in a report by exporting the models as Predictive Model Markup Language (PMML) or Portable Format for Analytics (PFA) and running them natively in Yellowfin, or calling models directly from a data-science platform such as R, Python, and H2O.ai.
Build great analytical apps
Yellowfin gives you the tools to design, build, and deploy
analytical apps to the business faster
Create engaging and interactive dashboards
Deliver insights your way. Build highly personalized and interactive dashboards with an easy-to-use, drag-and-drop browser interface. Or leverage our pre-built dashboards for popular apps such as Salesforce, Facebook, and Jira.
Analyze your data with smarter, more advanced analytics
Visualize and explore your data with the Yellowfin advanced data-visualization and data-discovery capabilities. Deliver insights with trend analysis, regressions, correlations, and set analysis.
Boost your productivity with Assisted Data Discovery
Spend less time doing manual data discovery and let Assisted Insights answer your questions instantly. Machine-learning algorithms identify statistically relevant anomalies and trends in your data then generate best-fit charts and narratives.
Now you can visualize your data
however you want to
Unlimited charts — choose from the Yellowfin chart library for quick and easy visualizations, or create your own. With JavaScript libraries (D3, Plotly, Chart, C3, and more), you can create your own stunning data visualizations.
Open APIs allow developers to rapidly customize, extend,
and embed Yellowfin into apps that will wow your customers.
Embed into your web apps
or workflows
Integrate Yellowfin into your app as white-labeled dashboards, or embed analytics into workflows using either JavaScript API, iFrame, or Web Services. All your security is respected with out-of-the box, multi-tenant support and single sign-on capabilities.
Leverage flexible
deployment models
Yellowfin scales to meet the heaviest workloads. You can deploy on-premise or in the cloud with AWS, Azure, or Google Cloud Platform. You can containerize with Docker, Heroku, or other application servers such as WebSphere, OAS, WildFly, and more.
Tech Specs
Operating Systems
Windows 2000 or later
Linux (RedHat Enterprise Linux, SUSE Linux Enterprise Server, or Ubuntu Server LTS recommended)
Solaris 7 or later
Mac OS X
Internationalization
Our platform is Unicode-enabled with the user interface supporting multiple languages including English, French, German, Italian, Japanese, Korean, Malay, Portuguese, Spanish, Thai, and Simplified Chinese.
Introducing our detailed guide to embedding analytics:
Embedding analytics is becoming increasingly easier. But that doesn't mean it's straightforward. That's why we have put together this in-depth guide to embedding analytics.