Cricket World Cup: Data Viz shows Windies reliance on Gayle
By Eshan Wickrema and Lachlan James
Has the West Indies up-and-down 2015 Cricket World Cup been due to the equally bipolar performances of iconic batsman, and undisputed king of cool, Chris Gayle? Let's see what Business Intelligence and data visualization has to say.
Chris Gayle: Total Runs scored at the 2015 Cricket World Cup
Cricket World Cup newcomers:
Not sure what the
International Cricket Council
(ICC) Cricket World Cup's all about? Check out our inaugural data blog for the 2015 Cricket World Cup
HERE >
After a stop-start campaign, which included a shock loss to associate cricketing nation Ireland in the opening round of the World Cup, the personality aplenty West Indies team has scraped into the finals of the 2015 Cricket World Cup, beating the (ironically) hard luck Irish for a place in the final eight (on run rate alone).
While Gayle, the Windies left-handed opening batsman, has been praised for his barnstorming double century against minnows Zimbabwe, he's received equal amounts of criticism for his notable lack of runs in his other 2015 World Cup outings to date.
Aside from his rollicking knock of 215, against a hapless Zimbabwean outfit, his other innings have resulted in a mere cumulative 64 runs (36 vs Ireland, four vs Pakistan, three vs South Africa and 21 vs India). That's an average of just 16 across his four other World Cup innings, with his demolition of Zimbabwe accounting for over three quarters (77%) of his total tournament runs.
So, with Gayle often described as the 'heart and soul' of West Indies cricket, does the team from the Caribbean really live and die by the blade of their enigmatic talisman? Does Gayle's inconsistent form spell doom for the Windies 2015 Cricket World Cup campaign? Not necessarily.
West Indies ODI win – loss record when Gayle scores a century

For example, Gayle has scored 22 One Day International (ODI) hundreds. But, the West Indies have only gone onto win 54 percent of those matches.
By comparison, since their ODI debut in 1973, the West Indies have played 713 matches, winning 365, with an overall winning percentage of 51.19.
That's stumps
Whilst it means the Windies can't look to Gayle as their savior at this World Cup, the fact that there appears to be no overt correlation between Gayle's ODI centuries and the Windies winning, it does likely mean that his patchy form won't necessarily dictate their success.
Recommended
Data visualization sets the scene for 2015 Cricket World Cup >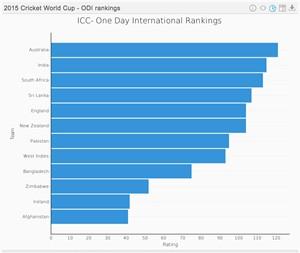 Data viz predicts 2015 Cricket World Cup high scoring games >