Augmented analytics: 3 key advantages for software vendors
Emerging analytical capabilities like augmented analytics aren't far flung futures anymore - and are providing many long-term advantages right now.
Artificial intelligence (AI), automation and machine learning (ML) are rapidly transforming the analytical experience for everyday business users in 2021. Whether it's automated visualizations, continuous analysis, or reduced time-to-insight, there are many practical benefits of augmented analytics that are well documented and fully realized today.
The part that gets lost in the excitement for new technology, however, are the major long-term advantages they bring not just to business users, but software vendors - in competitiveness, customer stickiness, and particularly the customer experience.
In this blog, we detail 3 advantages of augmented analytics vendors can leverage today.
#1 - You create and maintain a competitive edge for your product
As best-of-breed features, it's not exactly controversial to say AI and machine-assisted insights keep you ahead of competing applications by providing the latest powerful analytics for all your users - especially when it's as streamlined as Yellowfin Signals.
But it's not just the technology that creates the competitive edge for your software. The slow adoption of augmented analytics is an opportunity vendors should re-examine, as by overdelivering with a best-in-class augmented BI sooner rather than later, you can delight users with a unique experience they'll soon point to as the benchmark - and may not have known they needed it until your offering.
If your application is able to, for example, automatically alert a customer to when there is a risk or insight, think about that difference from a competitor's standpoint. When you're likely going up against other applications with static reports and dashboards, capabilities such as automatic data profiling and streamlined data harmonization are significant and highly visible value add-ons that can help your product experience stand out.
If your users are able to set up automatic alerts or use natural language to assist in their querying of key metrics, it's highly unlikely they will continue to use other third-party tools for their analysis needs. This means more will stick with using your software over other competing options, and that's a huge selling point that your sales and marketing teams can highlight across the business and to prospective new customers.
In short, your teams will acquire a long-term competitive edge, and your existing users have more reasons to stick with your software as the primary point for their daily work.
#2 - You increase revenue and opportunities to monetize data
Augmented analytics modernizes your application's analytics stack and reduces customer churn in a way standard operational reporting features can't by covering the evolving BI needs of your software users more extensively through the power of automation and machine-led analysis.
The level of efficiency and value that streamlined automatic alerting, assisted insights and automated monitoring provide can open up new opportunities for your sales teams to win more deals by highlighting your product's new and very visible analytical features - capabilities users likely can't get anywhere else. This can increase and diversify revenue streams for your product significantly.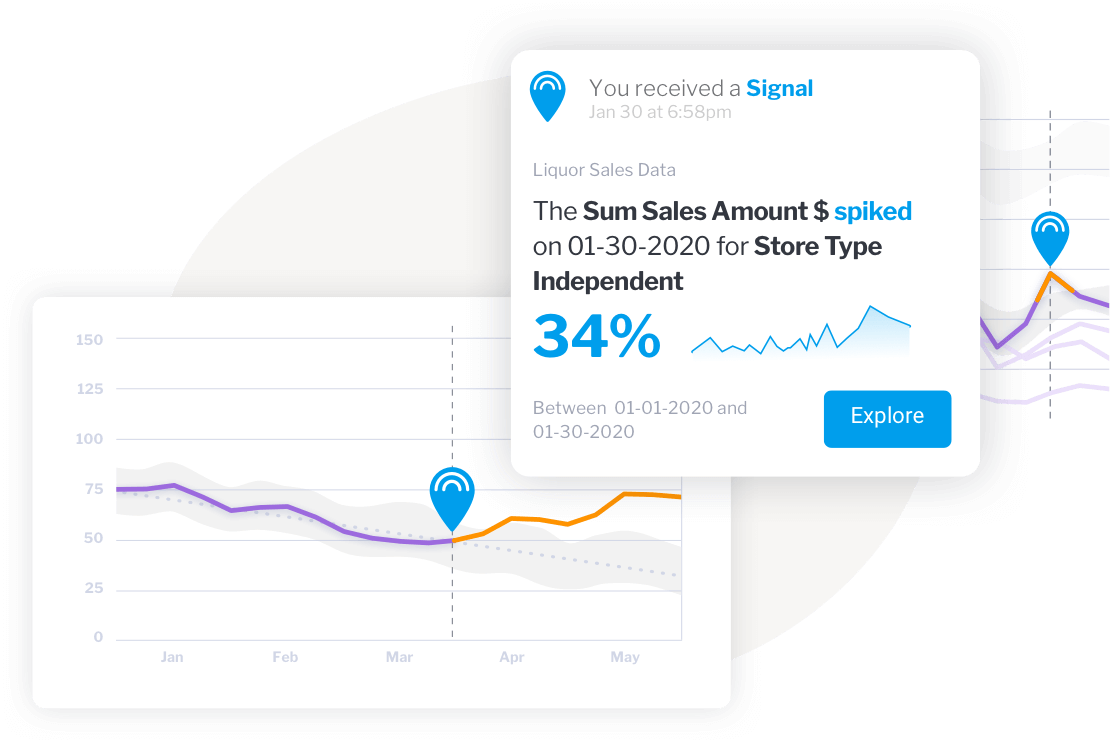 Most importantly, you unlock new ways to monetize your data capabilities. If you have new and advanced automation and AI features as a core part of your software package, features like automated reporting or machine-assisted insights can be sold to customers as separate future add-ons, or as part of a single value-rich package.
If competitors lack augmented analytics or can't match your app's capabilities with their own equivalents, all the more opportunity for you.
Read more: What is augmented analytics? - Definition and Explainer 2021
#3 - You create a better, unique customer experience that's remembered
The reality of providing any analytics offering in your app is it's not guaranteed your users will gain value from it or actually use it, or that the customer experience is optimized.
Traditional forms of reporting typically approach analytics as a largely manual task. Users are expected to view dashboards and reports on their own and sift through data to find the critical insights they need to assist decision-making. But the effectiveness of this method is subject to their individual skill-set, knowledge and available time.
Augmented analytics and the automated nature of its AI and machine-learning capabilities instead eliminate the heavy lifting and time required to manually search through large, complex volumes of business data to get alerts and answers.
It also optimizes your user's analytical processes, as they can now spend more time on other critical tasks, and be alerted to anomalies or changes they may not have known to look at previously as your analytics now shows them. Altogether, this creates a unique experience only your software offers.
Augmented analytics is a benefit to all users and vendors, across many sectors and use cases. It reduces report requests sent to your developers, fosters a more pervasive level of adoption of your app's analytics among users, and ensures people actually use and derive value from the many advanced analytical tools your team invests in.
Augmented Analytics in 2021: How Does it Work?
The benefits sound great, but how does augmented analytics work? We've got you covered. Watch our video guide - Augmented Analytics Explained.