How Customer Success helped take a SaaS company from Niche to Visionary in just 3 years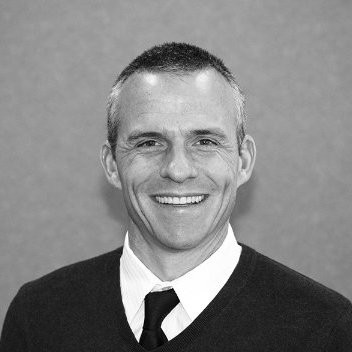 By Lee Roquet, CCO at Yellowfin
It was three years ago, just after the Gartner Magic Quadrant (MQ) came out, that everything in customer success changed at Yellowfin.
We had made it into the MQ again but we weren't positioned where we believed we should be. We were a product-driven company that had been first to market for many of the functionalities that have since become expected in what BI vendors offer today.
However, despite believing passionately in working to provide our customers with the best BI product, that alone wasn't enough to define our customer experience.
The truth was that we needed to adjust something if we ever wanted to be seen as anything more than a niche player. We had to be more than just a product company.
We had to change much of what we had been doing for the last 13+ years when it came to how we viewed our customers' success. We had too heavily relied on our incredible product to carry customer success. Going forward, we needed to put as much passion and focus into the value we provided our customers as we did our product so we could help them drive on-going success within their business.
3 things we changed in Customer Success
To take Yellowfin from 'niche' to 'visionary' in the eyes of independent analysts, we started our customer success strategy from ground zero. Here are three things we implemented or changed to take us from a small player to the organization to watch.
1. Our customer journey map
We started with a back to basics mapping of our customer journey. We had about 20 Yellowfin team members with sticky notes and colored pens working to outline every touchpoint that mattered to the customer.
We had to keep in mind that the customer experience was not what was best for our process but what outcome delivered the value the customer was looking for or needing. When we finished round one we broke into teams and each took a look at a specific 'moment that mattered' in the customer journey to outline how our Yellowfin team could make a difference.
Round two was focused on validating our truth. We worked with the team at Gartner to dig into the latest research around how software was being purchased by buying teams. What data these potential customer buying teams needed to pre-educate before reaching out to our team.
Armed with validation we came back together for a final round to ensure that we could answer a simple question: was our engagement with potential and current customers driving value?
Changing the way we looked at potential and current customers allowed us to build a new customer journey that we could link everyone in our company to. Armed with a new wall poster, workflows, and business system process that worked to support our team's ability to focus on the needs of our customers, we started to better understand the true value our product and partnership delivers.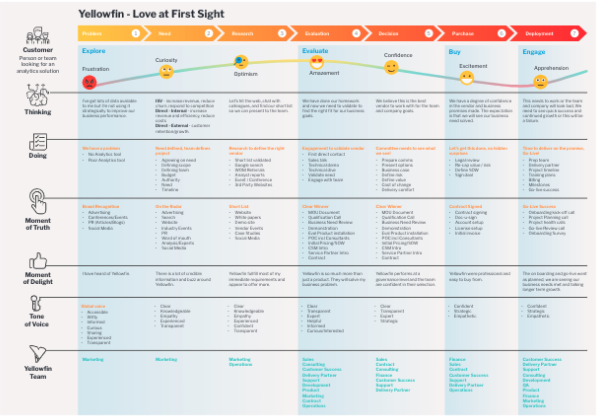 2. 'Voice of the customer' data
We then readied ourselves to hear what our customers had to say.
First, we had to build a way to capture customer feedback that was easy to manage and aligned to the customer journey 'moments that mattered' concept. From the work done in our journey map we had four key areas we wanted to make sure we captured to help validate our marketing, sales, onboarding, and customer success team's engagement.
We partnered with GetFeedback to build out our standard survey process. We then embedded GetFeedback into our Salesforce templates so our teams could automate the delivery of surveys as they aligned to our sales and customer management workflow.
The result began to validate what we believed to be true in our buyer's journey and give us new confidence in understanding what our customers' needs were and would be as their organizations grew. Our Voice of the Customer program provides us both customer and team feedback so we can quickly review product, marketing, process, and customer experience so we can share insights and drive business changes as needed.
As our team embraced the change, we started to share what was working and what was not working. In the first few months, we had to make lots of small changes to our process, our team training, and customer communication. Once the team started to see the customer feedback that validated the change in customer focus, we doubled down on sharing insights through company-wide storytelling with all departments and roles sharing in the process.
We now use monthly and quarterly Voice of the Customer Stories to make sure all departments can review the feedback linked to marketing, product management, development, support, and finance.
The feedback from our customers helped us invest more around key roles focused on year one success with dedicated onboarding specialists and customer success managers whose main focus is to ensure improved time to value at every touchpoint.
It has taken three years to become a customer experience company that now sells a visionary product and we are just getting started!
How Customer Experience has changed Yellowfin
As we worked to rebuild our new company focus to be a company that is driven by customer experience, the way that we look at our customers has changed across the organization.
Departments that had not felt like they could contribute to the customer experience now found themselves part of the customer team.
Our Voice of the Customer Program started to capture both internal and external feedback supporting our focus and validating the changes we had implemented.
We then focused on sharing those customer insights through company-wide storytelling and spending time with management to ensure everyone had the same understanding of how to guide customers to success.
From Niche to Visionary
Hearing the word 'visionary' in relation to Yellowfin's positioning in the 2020 Gartner Magic Quadrant report makes me exceptionally proud of the team at Yellowfin. Then on top of that, Yellowfin scored second-highest for both Augmented Analytics and Enterprise Analytics Use Cases in Gartner's March 2020 Critical Capabilities for Analytics and Business Intelligence Platforms report. Everyone has worked so hard the last three years to build a vision that Glen Rabie, our CEO, put on a whiteboard.
Even more validating than making the MQ are the comments our customers made around our customer experience, like: "Great organization, staff, and solution. The new leader in the BI and Big Data Space!!" And, "Your teams were fantastic. Everything was organized and clear."
Knowing our three-year focus to improve every touchpoint with our customers has been acknowledged is incredibly moving for me personally. But I must say, I am so proud of our customer-facing teams that spend the time working with and listening to our customers, defining success plans, working through product questions, and bringing a passion to ensure our customers' success is a reflection of our company's story.
Download the 2020 Gartner Magic Quadrant for BI & Analytics
Download the full Magic Quadrant report that independently reviews many of the leading analytics platforms. Get the report to discover why Yellowfin is named a 'Visionary'.