Yellowfin's Olympic wrap: What has BI and data visualization told us about the Summer Games?
Today's data visualizations and infographics brought to you by Yellowfin; now making Business Intelligence even easier.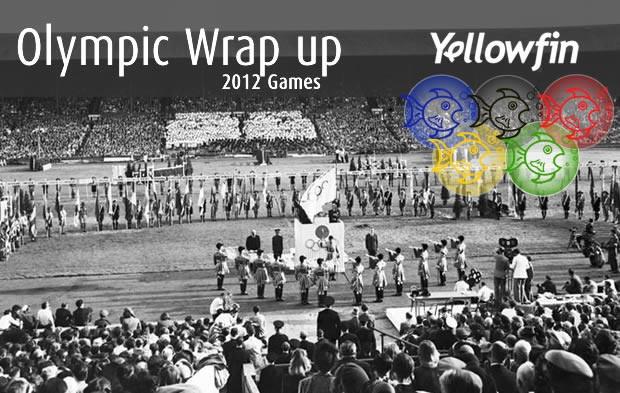 It's been breathtaking: Usain Bolt's confirmation as a legend by becoming the first athlete to win both the 100 and 200-meter sprints back-to-back, Michael Phelps retirement after claiming an unprecedented 18 Olympic Gold medals (four at London 2012), and David Rudisha's scorching World Record in the men's 800-meter final.
Sunday's Closing Ceremony will mark the conclusion of the Games of the XXX Olympiad, with athletes and spectators alike transitioning from competition to celebration mode. And as the world's greatest sporting spectacle culminates in a customary carnival finale, this congratulatory party atmosphere provides an opportunity for reflection on the feats, accomplishments and memorable moments of the modern Summer Games.
So what have we learnt from our series of Olympic data blogs over the past fortnight?
Women at the Summer Olympics
Dissecting female participation at the Olympic Games with infographics & data visualization
We discovered that while women weren't eligible to partake in Olympic competition in the first modern Games (Athens 1896), female participation has steadily risen since Paris, France (1900).
We also know that issues of gender imbalance have been rapidly addressed in recent decades, with women making up 45 percent of all Olympians at London 2012. This year's Games also provided a number of other significant gender-related milestones:
All 205 participating countries were represented by at least one female athlete for the first time, with Saudi Arabia sending its first female combatants
America – the world's most prolific Olympic nation in terms of medals won and resources dedicated – sent an Olympic team containing more female (269) than male (261) participants
London 2012 organizers lauded this year's event as the first Olympics to make all listed sports available to both men and women
National diversity of medal winners at the Summer Games
Assessing the diversification of medal winners by nationality at the Olympic Games
Despite some early fluctuation – where the number of medal-winning countries dropped from 19 at the inaugural Athens Games to just 10 at the 1904 World's Fair Games in St. Louis – medals are being won by an increasingly varied number of nations.

But while the total number of medals is being shared more evenly, has the trend been reflected within medal types? Or have a handful of countries been going for (and achieving) Gold, with only the minor spoils being more widely dispersed?

Essentially, we found that, while more countries are increasingly able to elevate their sportspersons to the Olympic dais, the competitors of minor nations will continue to struggle to remove the more traditional power-nations from the podium's highest step.
Olympic success by country
We also created an interactive dashboard of Olympic-related reports, allowing users to filter by nation. So start clicking, drilling and filtering to uncover your nation's most memorable Olympic moments, specific events and national heroes: Analyzing Olympic success by country with data visualization
Who are the true champions of the Games?
Analyzing the greatest Olympians with data visualization
We uncovered and admired history's most revered Olympians, including Soviet gymnastic machines Larisa Latynina and Nikolai Andrianov, as well as American super-fish Michael Freddy Phelps.
It turns out that Dylan was right: The Times They Are a-Changin'
Data visualization assesses the changing program of events at the Olympics over time
We exposed the International Olympic Committee (IOC) as the sneaks they truly are, discovering that a plethora of events have endured the unpleasant misfortune of being quietly retired from the Games' roster over time.
Note: The below interactive table simply offers a selection of – in retrospect – the more comical discontinued activities. Simply click on any of the listed events to drill into the detail and discover which athletes won medals in these now defunct Olympic events.
Socio-political rivalries at the Summer Games
Data visualization analyzes the East vs West rivalry at the Olympics
Many believe that political entities utilize the Olympics as a device to channel hegemonic ambitions. So we tracked the fortunes of the great eastern and western powerhouse performers at the modern Summer Games.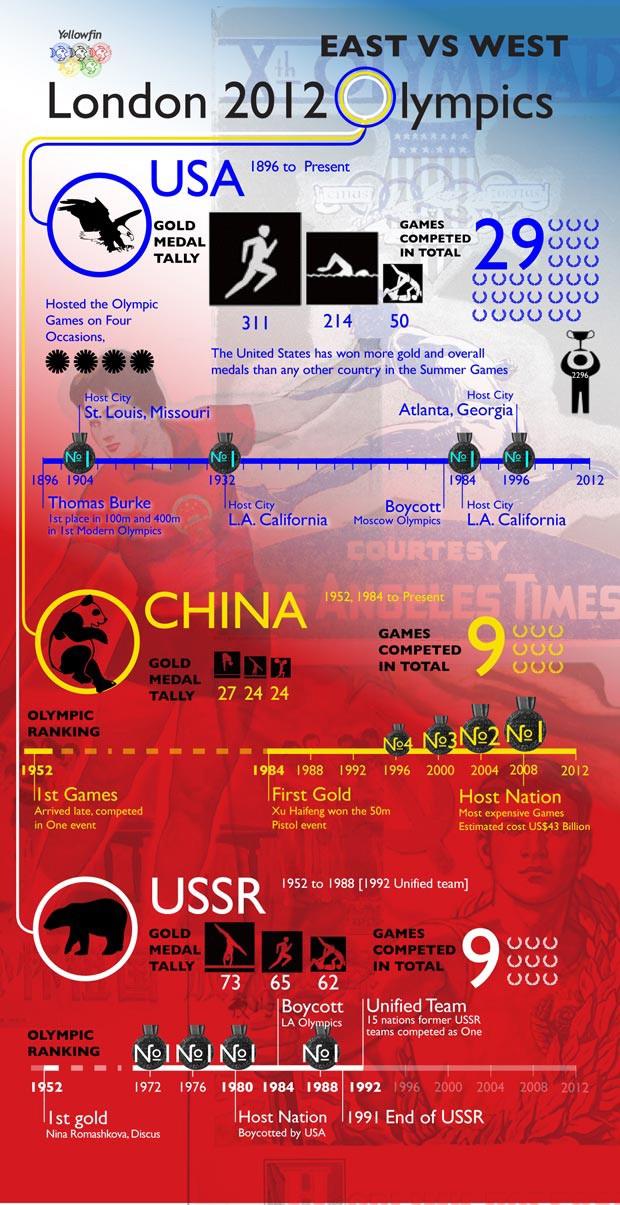 Each current (USA), former (Soviet Union) and rising (China) Olympic power has enjoyed notable dominance in a number of standout sporting categories.
Drugs in sport
Analyzing doping at the Summer Games with data visualization
While we mainly focused on the positive attributes and aspects of the modern Games, abnormalities in our data set, combined with Ye Shiwen's jaw-dropping World Record in the women's 400-meter Individual Medley, opened up the doping debate.
And, when we delved a little deeper into historical Track & Field results at the Olympic Games, some very interesting anomalies began to raise their potentially ugly heads. In particular, the Gold medal-winning performances of female athletes in time-based Track & Field events at the 1988 Summer Olympics in Seoul, South Korea.

The winning time in the women's 100-metre dash dramatically decreased in 1988, sharply rising thereafter. The same trend can be found across the 1988 Gold medal performances in the women's 200-meter and multiple relay teams – most notably the 4 x 400.
Economics at the Olympics
Does money buy medals? Analyzing the affect of GDP on Olympic success
For all its finer qualities and aspirational mandate – aimed at promoting a sense of global tolerance, community and unity – the Olympic Games is big business.
So, the continued diversification of the Summer Games – in terms of national representation – is unquestionable. But have the spoils of the Games been shared between an increasing, equally diversifying, and representative number of countries too? And what role does financial capacity play in a nations' Olympic performance?
Essentially, a direct – and pervasively accurate – correlation can be derived. With very few exceptions, aside from Australia's miserable performance in London, the wealthiest nations have experienced greater success at the Summer Games.

An increase in real GDP equates to more medals won at Olympic competition. So ironically, while the Olympics is meant to be all about bringing the world together, the Games will continue to be inevitably dominated by an economically elite few.
However, if both the size of a country's GDP and its population are valid yardsticks with which to measure its Olympic performance, wouldn't the ultimate test be to divide each nation's medal value by its per capita GDP?
In this instance, we found that Zimbabwe emerged as the ultimate Olympic champion:
Personal vs team glory at the Summer Games
Comparing country orientation towards team vs individual events at the Olympics
To definitively establish the globe's most individual and team-oriented nations at the modern Summer Games (those who have won the most medals in individual or team events as a proportion of their overall medal tally), we employed the use of one of Yellowfin's new trellis charts.
Note: There have been roughly three times as many individual events held throughout the modern Summer Olympics compared to team events. Therefore, to determine country orientation for team and individual events over time at the Summer Games, we weighted team events by a factor of roughly three. We then subtracted the weighted team medal count from the individual medal count. As a result, red squares with a negative value represent strong team results (more medals won in team events as a proportion of total medals won), while blue squares with a positive value represent strong individual results (more medals won in individual events as a proportion of total medals won).
The Games most popular event categories: Swimming, Gymnastics, Track & Field
Popular event categories Swimming, Gymnastics and Track & Field have featured at every Summer Games since the inception of the modern Olympic movement at the Athens 1896 Games.
Track & Field
Analyzing Track & Field at the Olympics with data visualization
Our research told us that the event category 'Track & Field' comprises the largest number of events on the current Olympic program.
We also found that America is the strongest performing nation in Track & Field over time at the modern Olympic Games. The USA has produced 630 medal-winning athletes (25% of all medalists in Track & Field over the course of the modern Games), winning a total of 755 medals in Track & Field (30% of all medals won in Track & Field at the Summer Olympics).
Swimming
Analyzing Swimming at the Summer Games with data visualization
We compared Olympic swimmers to Japanese itamae and found that, as a sporting category, Swimming has the second largest number of events on London's Olympic roster.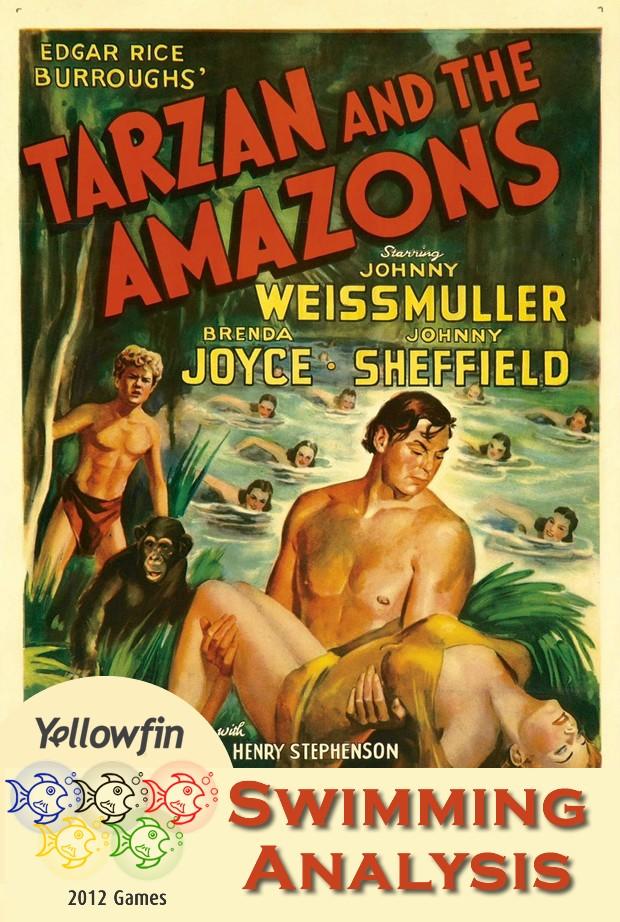 Infamous individuals – associated with athletic and Olympic greatness – like Weissmuller, Spitz and Phelps all made their names amidst the lane ropes and chlorinated water of the Summer Games. And; they were all American. In fact, the land of the free and home of the Eagle has completely and utterly dominated the Olympic swimming circuit, claiming a total of 489 medals (214 Gold, 155 Silver, 120 Bronze) between the 1896 and 2008 Games. Australia ranks an exceedingly distant second, winning 168 medals (56 Gold, 54 Silver, 58 Bronze) over the same period.
Gymnastics
Analyzing Gymnastics at the Summer Games with data visualization
We marveled at the dedication of Olympic gymnasts, and the fact that such sacrifice, toil, stress and strain is historically embodied in some of the Summer Games' youngest combatants.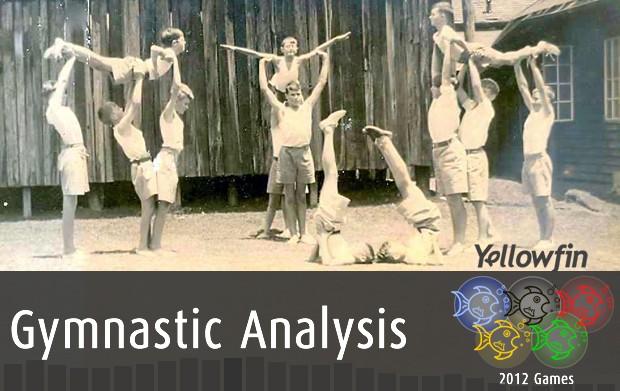 And, we revealed that the top two individual medal winners in gymnastic competition at the modern Summer Games (Larisa Latynina and Nikolai Andrianov) both represented the Soviet Union.
Where to next?
Thanks for all your emails and feedback – we hope you've relished our series of data blogs as much as we have. It's been an epic data filled journey of truly Olympic proportions!
And, if you've liked what you've seen, why not sign-up for our end-of-month Location Intelligence best practices Webinar, and discover what happens to your data when you add spatial elements!?
Best regards (and enjoy the Closing Ceremony!),
The team at Yellowfin