What is Automated Business Monitoring?
Today, organizations need to know what data they have, what it means, when it changes, and how it delivers value faster than ever before.
Modern businesses have a problem, though – a continuously growing mountain of data, made up of many different operational processes and performance metrics, which users must proactively monitor to ensure business goals are met and insights are deciphered.
Embedded dashboards are one way for your users to keep track of key information while using your application. But creating, exploring and monitoring the data within them constantly is a manual task, one that takes a lot of time and effort to discover everything.
Relying solely on this sort of manual monitoring typically means your users could miss potential changes or trends in their reports – consequently, your team could face lost opportunities, high costs and customer dissatisfaction with your product experience.
Thankfully, the last few years have seen a number of business intelligence (BI) solutions help lessen the time and effort it takes for regular users to both monitor and analyze key metrics and find relevant insights with automated business monitoring (ABM), the ability to automate the analysis of your information (data discovery) at scale – and very fast.
There's a lot of talk about the differences between what regular dashboards do and what today's automated business monitoring systems can provide, so we break down the key points you need to know about ABM here so you can prepare for its must-have benefits.
What does automated business monitoring (ABM) mean?
Automated business monitoring, also called automated analytics or automated reporting, is the ability for your analytics platform to auto-detect relevant insights – anomalies, trends, patterns – and deliver them to your business users in real-time, without users having to manually explore their data to find the answers they need.
An analytics platform with automated business monitoring uses algorithms to auto-analyze datasets to search for notable changes in data. It then generates alerts at fixed intervals or triggers (thresholds), and delivers the findings to each user, ready-made.
These processes serve to extend and not replace your traditional business intelligence tools (dashboards and reports), and overall they provide a richer and more personalized analytics experience for your end-users, from start to finish.
Any BI solution with automated business monitoring as a capability provides significantly more avenues to inform your users on the exact details behind every alert:
What's happened in the data (is it a deviation, pattern, trigger, trend?)
Where it happened (which dataset, area of business, country, region?)
When it's occurred (exact time and date)
How performance is affected (is it an opportunity, or an emergent problem to fix?)
Most importantly, having the ability to automate monitoring and data analysis can help further guide your users to discover why something has happened – faster than what a human could manually decipher from their data.
The best BI solutions with automatic monitoring and analysis capabilities don't just alert the user to consume the insight found, but prepare all of the auto-prepared data, visualizations and narratives into a new in-context analysis – for further data discovery.
How does automated business monitoring work?
There's much talk of automation in the BI space, but how does it fit with monitoring?
ABM is achieved through the use of emerging technologies like machine learning (ML) algorithms, natural language generation (NLG) and specialized statistics. Combined together, these powerful features enable an analytics platform to continuously monitor operational data and analyze factors which align with your desired business outcomes.
This type of advanced analytics leans toward time-series based analysis and focuses on finding critical changes in categories like outliers (spikes and drops), volatility, step changes, average and total, and trend direction.
If you have an app with automated business monitoring as an embedded function, you can configure these advanced algorithms to simultaneously monitor and track far more metrics than what a standard dashboard can accomplish, and across more dimensions.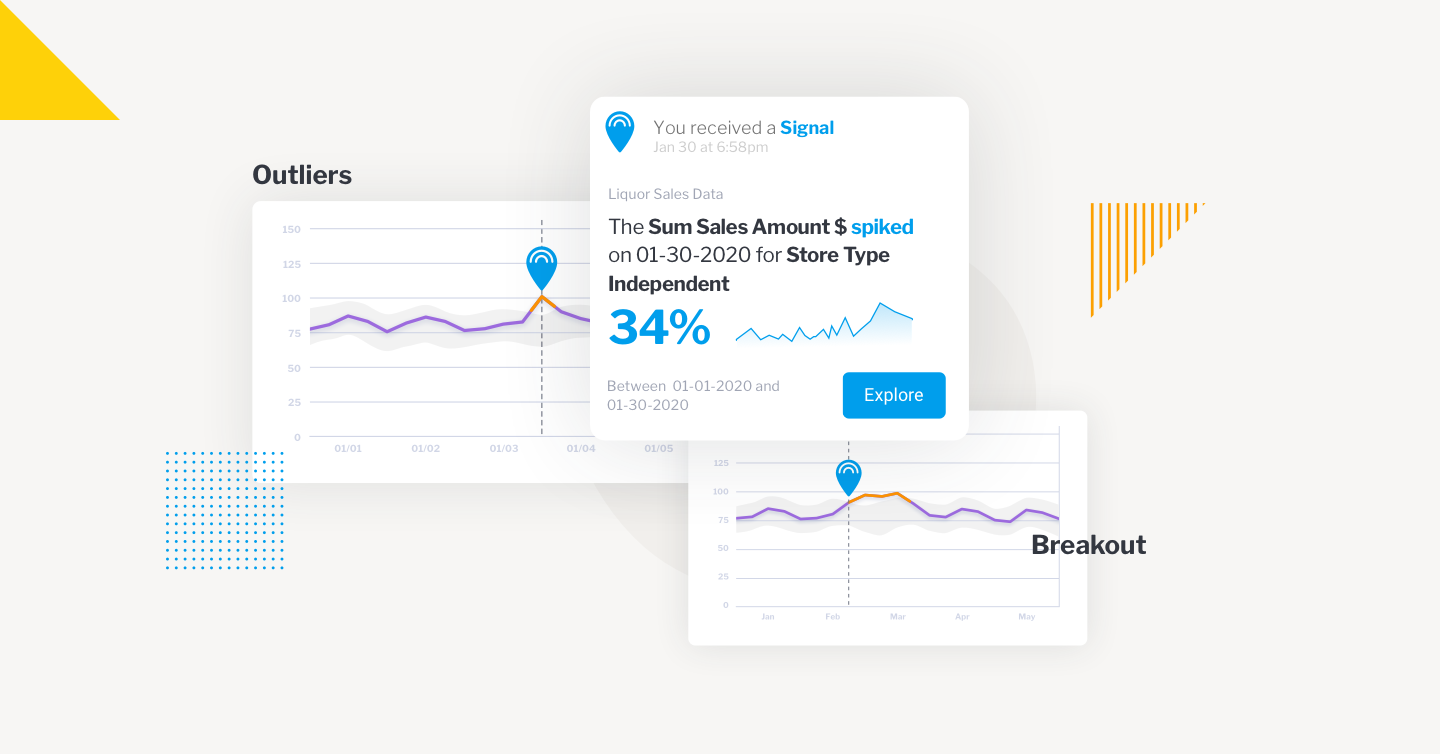 Activating these features is streamlined where it's available – generally, you just need to connect existing data sources to begin automatically generating a baseline of behavior. The system will then begin to establish monitoring and tracking functions. The best ABM solutions then allow you to set up and customize parameters in more detail to ensure the results for your users are much more targeted and relevant to their needs.
Automated analysis is also dynamic when it comes to separating signals from noise. Yellowfin Signals, for instance, uses complex ranking algorithms in the background to detect the most relevant deviations from your baseline; it then ranks data for each individual user, based on the user's previous system usage and exploration habits.
Once Signals has found a critical change it delivers these alerts to your users. The order of which alerts are shown is then influenced by each user's interaction and exploration activity with these types of Signals; if they examined alerts around sales in one region, Signals will learn over time to show more insights related to that area first.
By leveraging such powerful machine learning capabilities, your customers only get the most relevant and personalized insights as alerts.
Read more: How businesses use automated business monitoring
What is automated business monitoring used for?
One pain-point we hear from customers is their end-users, while having dashboards and reports available and embedded within their line-of-business applications, would prefer to have their analytics proactively notify them of changes to data and potential insights.
It's a sentiment that many external studies, such as Eckerson Group's 2020 report, 'Using Machine Learning to Analyze Business Metrics', have increasingly found accurate. In the paper, Eckerson found that more companies today are beginning to adopt and use business monitoring systems with automation capabilities for use-cases, including:
Detecting patterns of fraud
Managing ongoing cloud computing and digital transformation costs
Monitoring performance of payment gateways, partner APIs and channel partners
Sending auto-notifications when users encounter technical issues in their application
Tracking changes in customer behavior across product segments or channels
Having automated alerts gives regular business users more time to focus elsewhere, or to explore data without having to continuously track changes manually – a difficult task.
Having machine learning and real-time monitoring and alerts for your analytics also naturally brings about many opportunities for increased insights – dependent, of course, on the sector of the organization or the product experience ABM is embedded within.
One thing is for certain: It's very useful, and can only further enhance your regular BI.
Read More: How to accelerate digital transformation with Automated Business Monitoring
Automated business monitoring: Top 5 benefits
How does having the ability to automate monitoring/reporting help businesses today?
Here are key ways automation helps elevate your embedded analytics and BI platform:
1. Lower costs and improved ROI: On top of your regular tracking of performance via dashboards, automated business monitoring proactively detects issues so your users can prevent or resolve them before they become potential problems, which can lead to less risk and unnecessary expenditure. For example, a Yellowfin customer in Japan who offers beauty and healthcare products faced stock shortages for certain items, as they sometimes missed items with minimal stocks and misjudged timing for orders; their users then leveraged the automated business monitoring capabilities of Yellowfin Signals to detect certain item stocks in advance, which led them to reduce annual losses of 50 million yen from stockout to almost zero this fiscal year. Enabling your users to be proactively alerted fast when problems need fixing can lead to increased customer satisfaction, and, naturally, increased business opportunities.
2. Increased agility: The value of being able to respond to changes, deviations, trends or correlations in our business data faster thanks to automatic monitoring and auto-generated insights cannot be understated. For example, a liquor distributor used automated analytics via Yellowfin Signals and detected an outlier in sales for whiskey, 300% above the moving average; this helped end-users correlate the anomaly with other relevant changes, specifically a spike in sales for Johnnie Walker Premium. There they discovered a correlation between an external TV promotional campaign for its premium whiskeys and the sales spike. While this sort of insight is possible to manually discover via regular dashboards and reports, the addition of automated analysis via Yellowfin Signals ensured faster reaction and detection.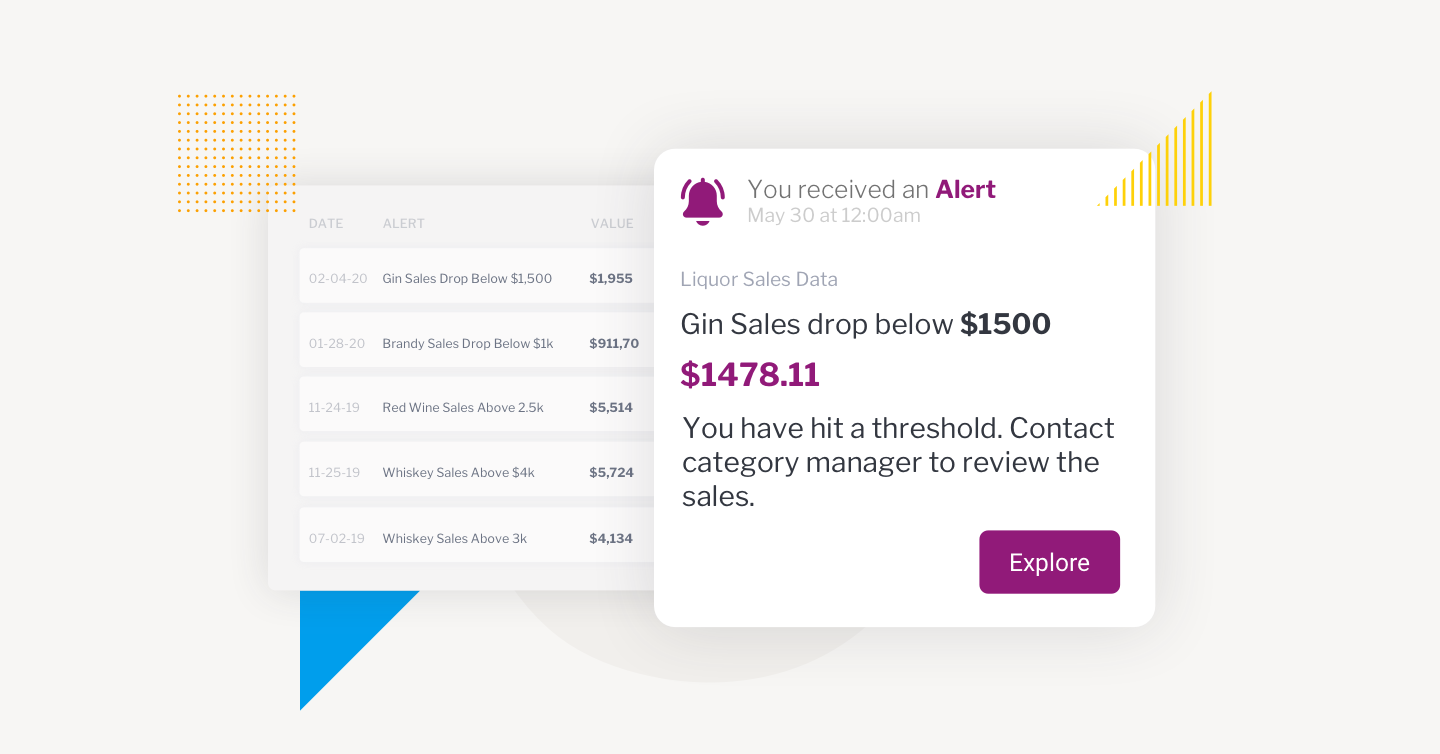 3. Focus on other priorities: With the time savings found in having automated business monitoring as a capability, ABM augments the capabilities of your BI users (whether they're regular business users or data analysts) and increases their effectiveness and productivity.
4. Relevant, personalized insights: Automated analytics makes it possible for your application's embedded analytics to generate more timely, accurate and relevant alerts. Getting notified about changes in your data after the fact provides little to no value, but with real-time notifications, that is no longer a problem. The intelligent design offered by having machine learning algorithms run your monitoring means you can create a behavioral baseline for your most important metrics, improve accuracy over time and create alerts aligning with what users consider relevant and deliver those insights only, saving time and effort in their data discovery.
5. Faster, easier data analysis: Creating visualizations or configuring logic and time-series databases beforehand is not always possible for every type of user – even those that have embedded analytics at their fingertips. With ABM, this is not required; the system auto-generates a baseline of behavior for countless metric combinations and proceeds to identify and alert users of any critical changes detected over time. By being able to automatically provide real-time notifications of changes, correlations and analysis for your users without human input, they ultimately have more opportunities to quickly learn of new insights and act. Because ABM is intertwined with cloud-based services and functions, they're faster and scalable than legacy monitoring solutions, too.
Read More: 5 key business benefits of automated business monitoring
Why should I get started with automated monitoring and automated analytics?
Ultimately, ABM has changed how, where and why users interact with analytics by switching the focus from empowering analysts to empowering regular users.
While the tech is still evolving, automated business monitoring systems are clearly poised to play an increasingly important role in both our choice and usage of analytics platforms.
Having automated analytics as part of your platform can save your team time and money in auto-tracking and analyzing data in a timely, efficient manner so your analysts can focus on higher priorities. Most importantly, it can help your users address issues before they escalate into problems faster, and find new insights they might not have previously.
Understandably, automation is not often the first business driver organizations consider when searching for a modern analytics platform, as it's considered an advanced subject. One thing all product managers can do first when considering how to elevate your application's BI capability is to be informed about just how streamlined ABM is becoming – and how accessible it is today in leading embedded analytics solutions like Yellowfin.
Download Your Free Whitepaper on Automated Business Monitoring
Learn exactly how automated analytics platforms like Yellowfin Signals are helping organizations improve their product experience in Business Monitoring Systems: Using Machine Learning to Analyze Business Metrics.