Embedded Analytics: 5 Key Features to Have in 2023
Having analytics built into consumer apps and business software applications is becoming standard practice, particularly as a result of digital start-ups.
Start-ups founded on analytics have been shaking up every industry. Finance has been disrupted by Monzo's data focus, Netflix's analytics has upended film entertainment, and Swyfft has used data to change the game for US home insurance. Today's users have come to expect analytics in their applications. It empowers them to make data-driven decisions that save them time and money by making efficiency gains and enables them to make the most of the investment they've made into the enterprise software product.
And this growing expectation from the average business user of your software comes the need to compete on the analytics you offer too. Embedding analytics into your software application is no longer a bonus feature - it is becoming a crucial and standard part of software-as-a-service (SaaS) offerings. You probably already have an analytics offering, but it's time to shift from your legacy or home-grown reporting solution to a proven embedded analytics platform your customers will love. You need to be able to keep up with the changing demands in your industry to attract the customers you want.
The value of embedding analytics in your app
Simply put, analytics provides your users with the ability to glean insights from the data that is held in your application. And because they can use that data to increase their efficiencies and therefore increase revenue, your product is made more valuable to them. This means you can sell your software at a higher price point and attract more customers through offering a cutting-edge analytics offering.
Embedding analytics helps you increase your win rate, decrease churn, and deliver an analytical experience that ensures you will grow your customers.
Gartner expects that, by 2020 and onwards, most enterprise application providers will compete on the level of advanced analytics offered in the products, rather than just differences in core functionality. But choosing between and deciding on which embedded analytics tools to integrate into your software can be a process filled with potholes if you're not sure what you should be looking out for - positive and negative.
There are many considerations, from features and functions to the business relationship you will have with the analytics provider you choose. So we've rounded up 5 key capabilities all modern BI tools should have if you are to embed them into your software product to compete on analytics and deliver significant value to your end-users.
The meaning of embedded analytics
Let's get the definition of embedded analytics straight by answering what embedded analytics is. Embedded analytics is the integration of analytical capabilities and data visualizations - real-time reports and dashboards - into a software application.
5 key features in embedded analytics and BI tools
1. Ease and depth of integration
Your embedded analytics platform will need to integrate seamlessly so that the UI and user experience (UX) that you've worked on so hard in your own application isn't interrupted by, or different to, the interface of the BI tool.
Ask questions about how the applications will integrate and how much effort that requires. The best embedded analytics solutions will have several different, straightforward methods to integrate with your software application, and they won't lock you into proprietary databases or development languages.

But ensure you are getting a true embedded platform, as you don't want users to feel like they are leaving your application to enter the analytics module. This removes the trust they have put in your brand, as they feel like there is an unexpected third party involved.

2. A seamless user interface (UI)
As a product manager, you are fully aware of just how important the user interface (UI) of your product is. With a seamless and clean UI, your customers have a greater chance of engaging and using the product more. In the age of apps, everyone knows what a quality interface looks like and you absolutely need that from the BI tool that you will embed.
You want a completely seamless experience for your users and an integration that is easy to manage and maintain on your end. Look for a modern interface that is simple to use for your end-users. The interface should also be easy to rebrand as your own - this is what is called white-labeling, or OEM business intelligence - so your software users don't perceive a difference between the analytics element and the rest of the application. The analytics capabilities themselves also needs to be easily customizable to allow you to white-label analytics into your application in a way that looks and feels like your existing brand, in both design and UX.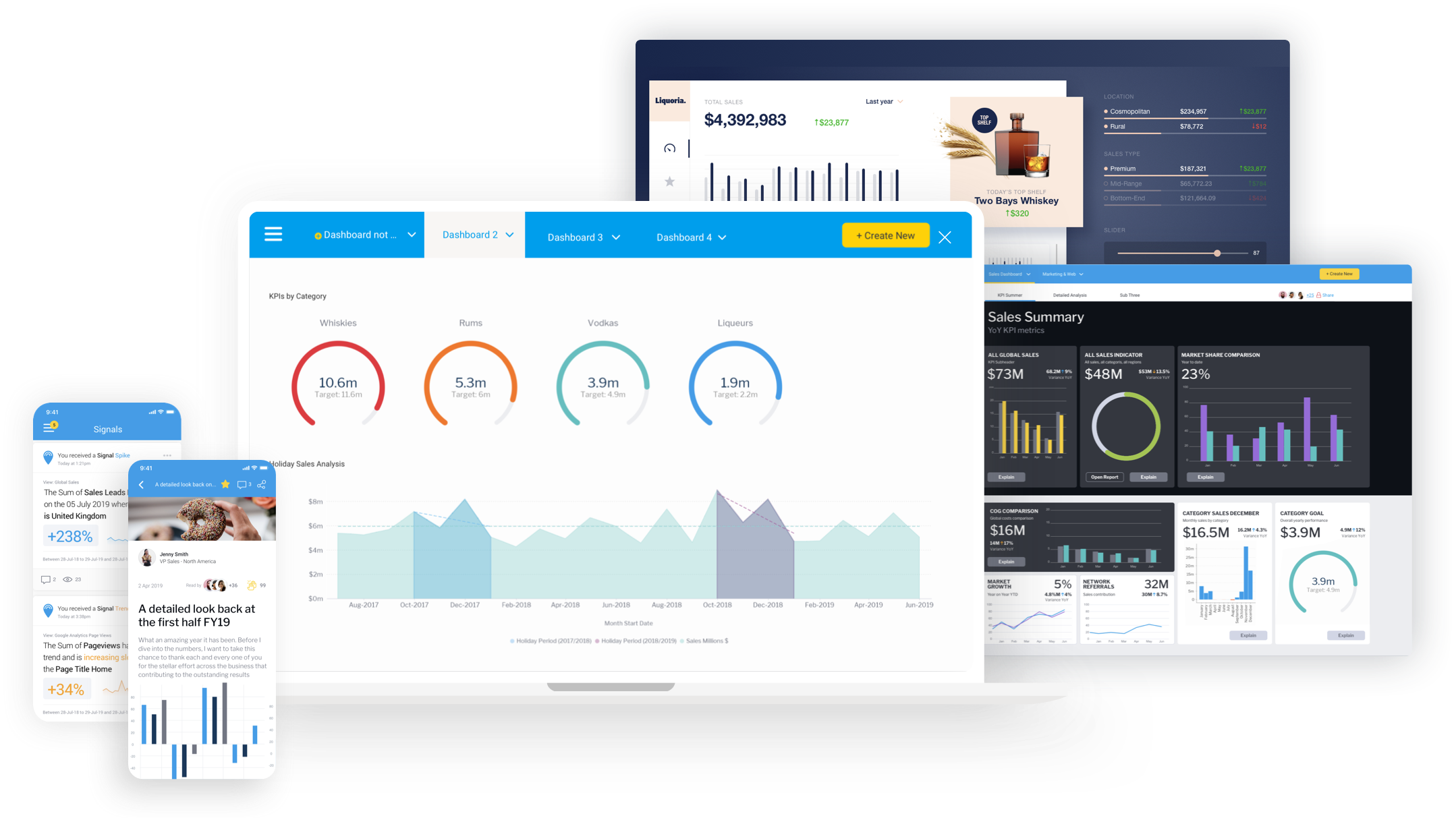 3. Functionality
End-users will appreciate the ability to do advanced analysis on the data held in your application when they need to, so ensure you are selecting an analytics platform that allows for self service analytics. Even if that's not what your customers want now, it will be in the near future.
Your embedded BI platform should support a full stack of integrated analytics functions. Everything from reports and dashboards to solid data governance, data preparation to data storytelling and augmented analytics should be included. The platform should be developer and user friendly. If it doesn't cater to all parties, you will end up with dissatisfied users or developers who don't want to use or support the analytics module.
Look for automated analytics, too. The automation of insights with automated business monitoring is becoming more common within BI tools and having AI and machine learning capabilities built into your application will put you way ahead of the competition. This technology delivers greater value to your users, as it helps them get to the insight faster. Gartner's paper on embedded analytics platforms, states, "The ability of business users to perform complex analytics without the need for data science skills using embedded advanced analytics means business users can make better, faster decisions."
Automation is ultimately a smart way to future-proof your application and make sure your analytics and product stand out in an increasingly crowded and competitive market.
4. Pricing
Pricing is another crucial part of the embedded analytics platform choice. It is recommended you need to partner with a BI vendor (because it should be a partnership, not just a purchase) that will try to align their pricing as closely as possible with the way you charge your customers. You need to look for a commercial model fit above all else.
You also want to ensure that there is flexibility for growth as you sell into more businesses and grow accounts. How will the pricing match or change at each stage of growth? This is one area not to rush.
5. Innovation
Finally, you need to ensure you're partnering with an analytics vendor that is dedicated to innovation. You don't want a partner only focused on just improvements to their BI tools, but true continuous innovation that offers completely new ways of doing analytics. A BI tool vendor that innovates is one that will keep you ahead of the competition and keep your offering fresh, so you are always future-proofed against the upcoming competition.
Ask your shortlist of embedded analytics vendors about their track record of innovation. Take a look at third party analyst reports and see for yourself who is named as an innovator. In an industry that is constantly changing and growing as fast as analytics and BI, you ultimately cannot afford to integrate your software product with an analytics platform that is a follower. You need a visionary and a leader to help you achieve success.
How to choose the best embedded analytics solution

Choosing a BI tool to embed into your product is a crucial step in future-proofing your application and ensuring you have the competitive advantage to win more and churn less. So make sure you choose an embedded analytics partner that offers the following:
Seamless integration

A modern UI and seamless user experience

A breadth of functionality that includes advanced and automated analytics

Pricing that matches your commercial model as closely as possible

Constant innovation to keep you and your product at the head of the pack


You can find out more about what to look for in an embedded analytics solution by downloading Yellowfin's Ultimate Guide to Embedded Analytics Whitepaper. It walks you through key challenges, strategic planning, and the types of features and innovations from the world's leading BI vendors you need to consider when buying embedded analytics today.
Compare top embedded analytics platforms side-by-side
See how real users rate embedding Yellowfin, Looker, Sisense, and Logi Analytics into their applications. Download the comparison report.